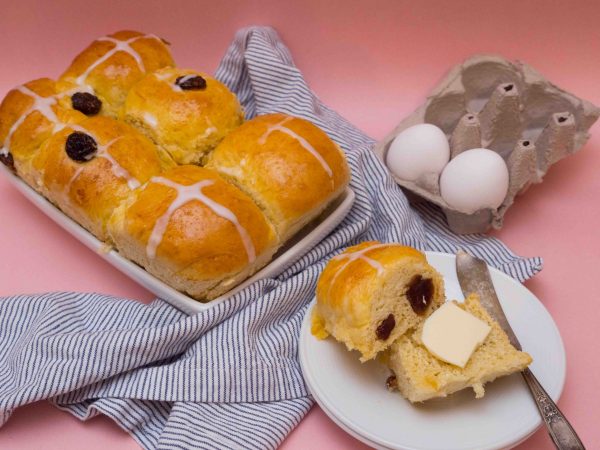 This is a sponsored post with California Raisins. As always recipes and opinions are my own.
Jump to Recipe
It is that time of the year where we are preparing our annual Easter meals with our family. Hot cross buns are always a favourite and familiar item for many families as they celebrate Easter. Instead of buying hot cross buns already made, nothing beats homemade fresh bread. That intoxicating smell from the kitchen as fresh bread gets baked so like no other.
Hot cross buns are actually very easy to make, and you only need a few ingredients and really anyone can make it! I promise!
So, What Exactly are Hot Cross Buns?
To break it down, hot cross buns are a sweet bread that is leavened by yeast and there are usually some delicious raisins inside the dough. Most people who eat hot cross buns usually serve it during Easter weekend, and more specifically on Good Friday.
Why Raisins are Needed in a Hot Cross Bun?
To me, a hot cross bun is just bread if there are no raisins incorporated into it. I love using California Raisins in this recipe since not only do they give it a hint of natural sweetness but also a contrast in texture. I like using naturally sweetened raisins as well since I can cut back on the added sugar to this bread recipe. If you are a fan of raisins, check out my other raisin recipe – Cinnamon Babka here. And if you want more information on California Raisins, go here to learn more.
Are Hot Cross Buns Vegan?
Simply put, no. This recipe requires eggs, butter, and milk, but there are some amazing substitutes on the market now for these ingredients, if you are a vegan, you can substitute those ingredients and still make an amazing hot cross bun.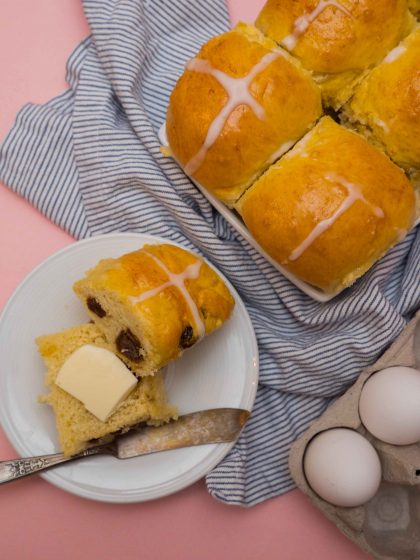 Are Hot Cross Buns Healthy?
I get asked this question a lot too. By adding California Raisins into the recipe, you can cut down a lot on the added sugar which makes this recipe healthier. Everyone has their opinions on how healthy bread is but if you eat it in moderation, it is not bad for you at all. You can also swap out the regular white flour for some whole wheat flour to make it even healthier.
Can I Freeze Hot Cross Buns?
You can definitely freeze both the dough and also the baked buns if you want to save some for another time. If you freeze the dough, you can thaw it out when you are ready to bake and follow the instructions on baking the buns. If you freeze the already baked buns, you can simply defrost one when you like by letting it sit at room temperature or you can pop it into the oven.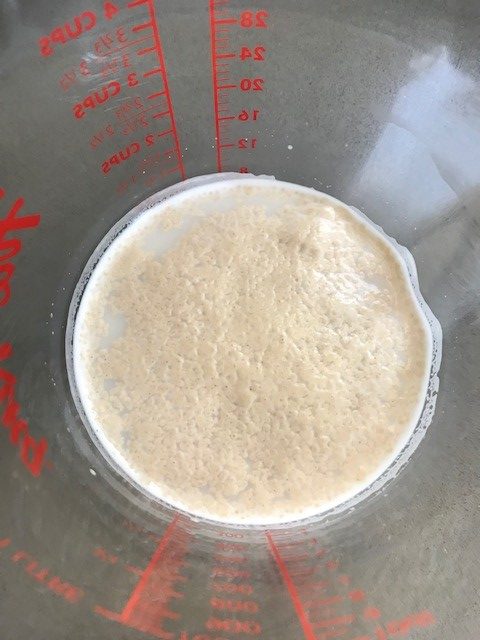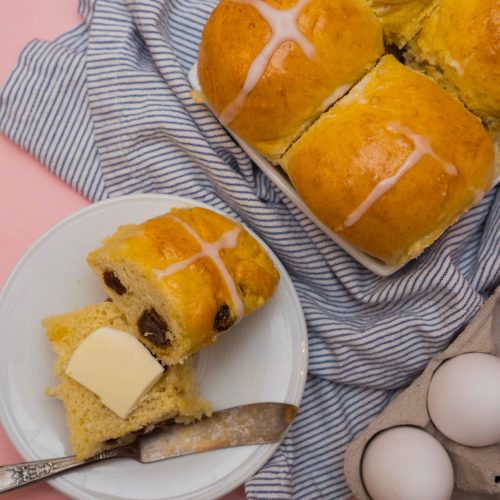 Easy Raisin Hot Cross Bun
Ingredients
For the Dough
1

cup

milk

2

TBSP

Active Dry Yeast

1

tsp

white sugar

2

eggs

1/4

cup

water

Pinch of salt

1/4

cup

melted unsalted butter

1/4

tsp

cinnamon

3

cups

all purpose white flour

(You may need more or less depending on how dry your kitchen is)

1/2

cup

California Raisins

oil for brushing bowl
Cross Icing
1

TBSP

water

3

TBSP

Icing Sugar
Instructions
In a mixing bowl, add warmed milk, yeast, and sugar and stir to combine. Let sit for 10 minutes until the yeast foams up

Add eggs, water, salt butter, cinnamon into yeast mixture and combine.

Add 1 cup of flour at a time to mixture until a dough ball forms.

Brush bowl with a little oil and let dough rise for 90 minutes in warm spot (or if your oven has a proof setting). Cover with a moist towel.

After 90 minutes, divide the dough ball into either 9 large dough balls or 12 smaller dough balls and put them on a baking pan.

Let rise for another 30 minutes. Cover with a moist towel.

Bake buns in preheated oven for 15 minutes

Mix water and icing sugar until thicken and put into pipping bag

Let buns cool completely and pipe a cross on each bun

Serve with butter and enjoy!
Have you tried making hot cross buns before? Or have you tried baking bread at all? Comment below and let you know what your favourite bread to bake is!