Who doesn't want to eat a gummy that not only taste good but can help with your headache or any kind of pain you might be experiencing? And best of all, the version I make here is also vegan since I used agar agar powder instead of gelatin. If you are not vegan, you can use gelatin and follow the instructions on the package to make these gummies.
Agar agar is a vegan version of gelatin. It comes from an algae plant and thickens up almost like gelatin. I say almost because the agar agar powder gives the gummy a slightly different texture than what you might be used to from gelatin. Nevertheless, it is just as delicious! You can find agar agar powder in any Asian grocery stores or online on amazon (Linked below).
Couple of things to remember, CBD oil is not for everyone. If you haven't tried it and want to give it a go, make sure you talk to your doctor and see if it is right for you. Also, the dosage I used for these gummies are quite low. So if you prefer a higher dosage, you can add more, or just eat more gummies!
If you like your gummies sweeter, you can also add sugar, honey, agave or any kind of sweetener you like to the mixture.
And a warning, these gummies are intended for adults to consume and not children. They look just like candy and taste just like it (since you cannot taste the CBD oil). Please make sure you put them in place where your children cannot get to.
You can be creative and use any types of juice to make these gummies or even use green tea, which I want to try!
If you want to read the basics on cooking with CBD oil – check out my post about it here.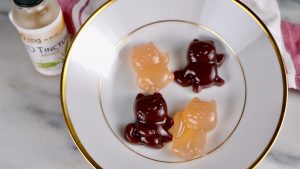 CBD Gummy Recipe
Ingredients
1

cup

your favourite fruit juice

1

tablespoon

agar agar powder

(try to get powder verus the flakes)

4

ml

CBD oil

(this dosage you should adjust to what you need, these gummies have about 5mg of CBD oil in each gummy)
Instructions
Dissolve agar agar powder in juice and whisk together until thoroughly mixed (Use a small sauce pan so you don't have to wash another bowl)

Heat over medium heat and let it come to a gentle boil. Once it starts to thicken up, turn off the heat.

Add CBD oil to mixture and whisk until combined.

Working quickly since the mixture will start thickening up as it cools, pour into molds. Refrigerate for 30 minutes and ENJOY!
Notes
Tools I used:
(adsbygoogle = window.adsbygoogle || []).push({});