If you want to incorporate CBD into more of your daily recipes, the best way to do this is to make CBD infused butter. Once you have CBD butter, you can add it to any recipes that calls for normal butter and replace it with CBD butter. Just always keep in mind that the CBD cooks off if it heats over 350 F so make sure you are using it in recipes that will not go over this temperature.
This recipe is very easy to make and depending on the strength and type of CBD oil you have, you will likely not taste any difference in your butter. Remember to keep it in a separate labeled container so your children do not get into this oil.
If you want to read the basics on cooking with cannabis, check out my previous post here and check out my CBD gummy recipe here.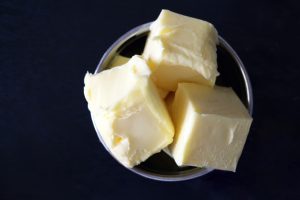 How To Make CBD Infused Butter!
Ingredients
2

cups

butter

1

cup

water

20

ML

CBD oil
Instructions
Chop butter into smaller pieces

Put butter, water and cbd oil into a small pot

Heat over low heat for 2 hours (You want to use low heat so the CBD oil does not cook out)

Let the mixture cool a little

Stir and pour into airtight container

Refrigerate and use like normal butter!