Jump to Recipe
This is a sponsored post but as always, recipe and opinions are my own.
Most of you probably have heard of Chinese New Year celebrations but have you heard of Lantern Festival? Chinese New Year is a huge event in Chinese cultures and many people in China and Hong Kong celebrate for almost two weeks with family, friends, and delicious food! We know how to ring in the new year that's for sure!
Lantern Festival falls on the 15th day of the lunar calendar. According to the lunar calendar, the first day of 2020 was January 25th! Families and friends come together to celebrate being together. There are tons of activities like dragon and lion dances, lighting of lanterns and of course more delicious food! Usually the Lantern Festival includes a nice meal with family similar to any Chinese New Year meal!
Dumplings are probably one of the most popular dishes during Chinese New Year and Lantern Festival. Dumplings signify wealth and the more you eat during the new year celebration, the wealthier you are supposed to become in the upcoming year! The best part about dumplings is that they can really be adapted to whatever you like your filling to include. You can simply make them with vegetables like carrots, cabbage, and onions and I love adding ground turkey into my dumplings for a number of reasons:
it is easy to find
turkey is lean and doesn't make your dish super greasy
turkey works very well with Asian flavours like ginger, garlic, soy sauce, etc.
when you add turkey to your dumpling filling, it keeps it nice and juicy
turkey is high in protein so these dumplings are great for not only as part of the Lantern Festival dinner but just as an everyday snack or a quick meal!
very economical, using about 1/2 pound of turkey costs around $2.50!
Are Dumplings Gluten Free?
The wrappers are usually not gluten free but you can definitely make your own wrappers that are gluten free with rice flour, chickpea flour, tapioca starch and ground chai seeds. The texture will be slightly different and it will be harder to achieve a really thin gluten free dough but it is definitely doable! As for the filling, you will have to ensure you get gluten free soy sauce like Tamari (just check the label to ensure it is 100% gluten free) but otherwise you can definitely make a gluten free version!
How To Cook Dumplings
There are so many ways you can cook dumplings, my favourite ways are to pan fry or deep fry them. But you can also bake, boil, steam them and even use your air fryer to cook them.
Can You Freeze Dumplings?
Yes! After wrapping them up, lay them on a single layer on a baking sheet and freeze them for about 30 minutes. Once they are slightly frozen, put them into a zip top bag and freeze them fully. When you are ready to eat them, you can simply take them out of the freezer and cook from frozen. It is best to cook from frozen since defrosting them can make them soggy. When I make dumplings I usually make a huge batch so its perfect to freeze some so you always have some on hand!
How to Make Turkey Dumplings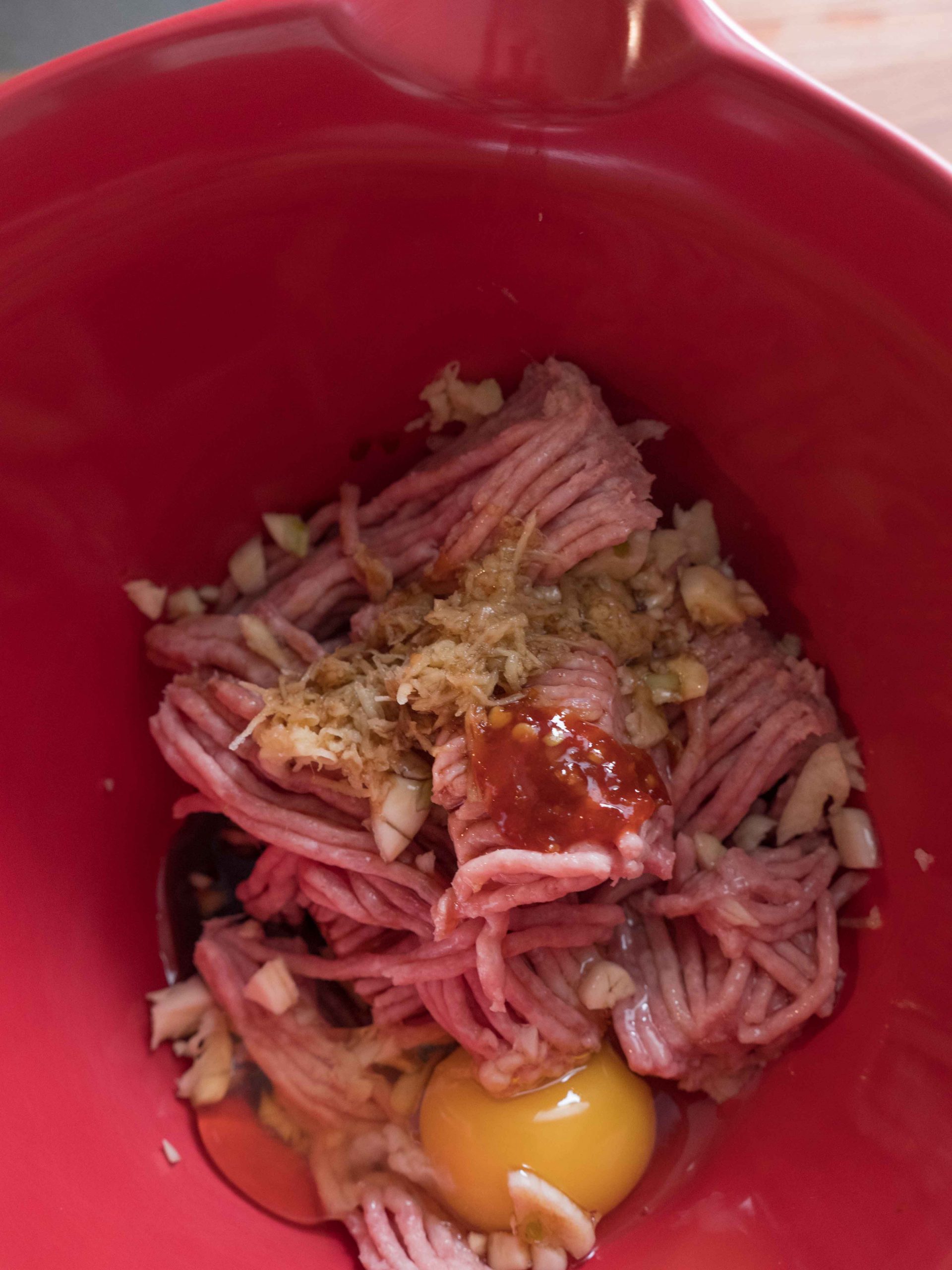 How to Fold Dumplings
There are a number of ways to fold your dumplings, watch this video to see how!
Print Recipe
Lucky Turkey Dumplings
Easy and delicious Chinese Turkey Dumplings!
Ingredients
1

pound

ground Canadian Turkey

½

cup

low sodium soy sauce

½

tsp

sesame oil

2

garlic cloves peeled and finely chopped

½

inch

of ginger peeled and grated

1

tsp

of hot sauce

Your fav kind – optional

1

large egg

Dumpling wrappers

Make your own or use wonton wrappers from store

Vegetable oil for frying

Small bowl of water
Instructions
Mix Canadian Turkey, soy sauce, sesame oil, garlic,ginger, hot sauce (if using), and egg to combine

Put approx. 1 tablespoon of turkey filling in the middle of each dumpling wrapper

Fold dumpling wrappers in half and using water to seal the edges (you can simply seal the edges together or create crimps for a fancier design)

Heat a pan with vegetable oil for frying

Pan fry each side of the dumplings for about 2 minutes until the dough turns golden brown
For more turkey information and recipes, head over to the Canadian Turkey website here.