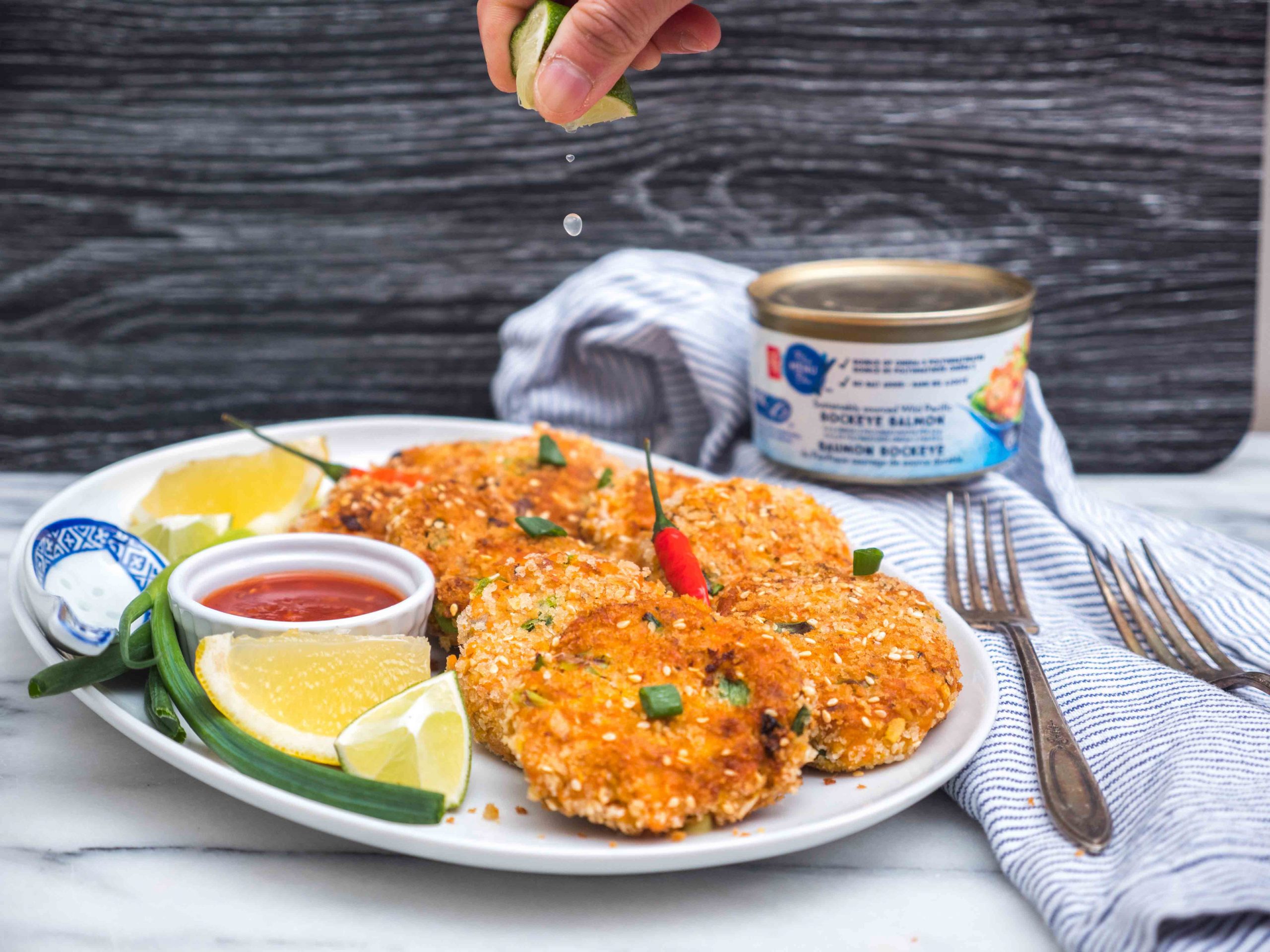 Jump to Recipe
This is a sponsored post with MSC Certified Seafoods. As always, opinions and recipes are my own.
Happy March! Did you know March is Nutrition Month? I've partnered with MSC certified sustainable seafoods to show you how you can incorporate healthy seafood into your weekly meal rotation. Seafood is great for you and using MSC certified sustainable seafood just makes sense! You can have a delicious meal that is good for you and good for the environment. If you haven't heard about MSC certified sustainable seafood before, it is not too late! MSC stands for Marine Stewardship Council and they are a non-profit organization and certification program that is helping the world learn about sustainable fishing and making sure there is wild seafood available for generations to come.
When you purchase MSC certified sustainable seafood, you are making a direct contribution and commitment to healthy oceans! You are also buying seafood that is certified traceable, wild, and sustainable. I love how an everyday meal can make such a big impact.
I love using MSC certified sustainable seafood in my recipes and you can see some of them here. You can create so many delicious recipes with seafood. One of my favourite things about using MSC certified sustainable seafood is the fact that you can get fresh, frozen and even canned seafood that is good for the environment. (You can even get pet food that is MSC Certified!)
Using canned seafood is so easy since I always have a few cans of canned tuna or salmon in my pantry. It is also quite economical and you don't have to only make tuna fish sandwiches with canned fish. I love using canned MSC certified salmon in my Asian Salmon Cakes. The ingredients are simple but it really transforms the canned salmon to a whole new level!
Are Salmon Cakes Healthy?
Yes! Salmon cakes are actually very healthy! Salmon has a lot of protein, good healthy fats and it is full of flavour! This recipe makes a great snack or a quick lunch that is quite filling!
What Kind of Salmon Can I use for Salmon Cakes?
You can definitely use fresh or frozen MSC certified salmon but my favourite is to actually use the canned version. You can easily buy it at almost all local grocery stores now! Just look for the blue fish label on the cans! If you are not a fan of salmon, you can also use MSC certified canned tuna too!
How to Make Asian Salmon Cakes
This recipe is actually very simple and quick to make! If you cook Asian foods often, you likely will have all the ingredients to make this recipe already in your pantry.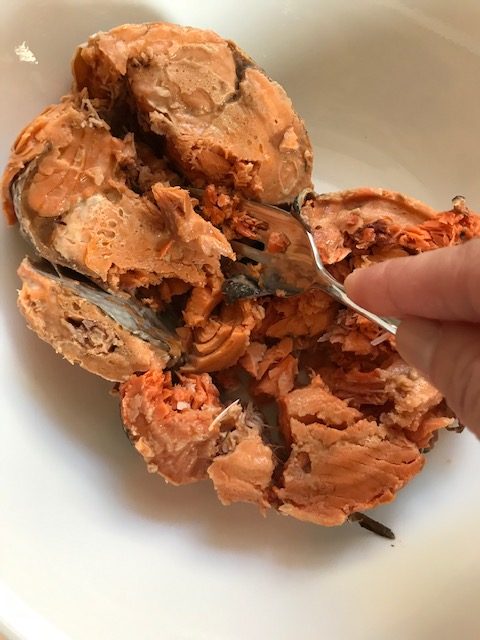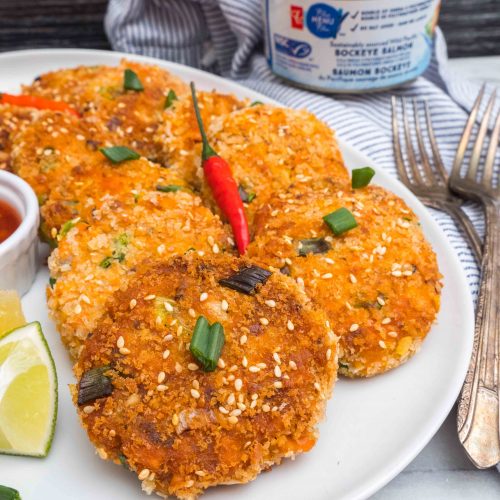 Asian Salmon Cakes
This easy and delicious Asian Salmon Cake recipe is great for you and the environment!
Ingredients
2

cans

MSC certified Sockeye Salmon (213 gram cans)

2

TBSP

soy sauce

2

garlic cloves, crushed and diced finely

1

tbsp

ginger, peeled and grated

1/4

cup

green onions, finely diced

2

tbsp

lemon juice

2

large eggs

1/2

cup

panko

1/4

cup

sesame seeds

vegetable oil for frying
Instructions
Open 2 cans of MSC Certified Salmon and drain all liquid

In a large bowl, combine salmon, soy sauce, garlic, ginger, and green onions and combine

Add 2 eggs and mix until combined

In a separate bowl, add panko and sesame seeds

In a large cast iron pan, add oil and heat to medium/low heat

Roll each fish cake and flatten to a small disc, coat with panko and sesame seed on both sides

Pan fry each fish cakes, about 2 minutes on each side or until golden brown

Serve with green onions, red chili peppers and garlic chili sauce as garnish if you like.
Have you tried this recipe? Comment below and tag me on Instagram (@joyceofcooking) to show me your creation. For more MSC certified sustainable seafood information or recipes, check out their website here.