I don't know about you, but in the last few weeks, we have been trying our best to avoid grocery stores as much as possible since there are usually really long lines and you are still putting not only yourself but other shoppers and employees at risk by going into the stores. I have been trying to really think outside the box to see how we can get the basics without stepping into a big-box grocery store.
Let me start off by saying that, there is nothing wrong with going to a grocery store still if you have no other options. Also, there are really great click and collect and grocery delivery options out there. Just make sure you plan ahead for these as orders are taking at least 2 weeks to fulfill.
Meats
There are many wonderful butchers in every city that is providing high-quality meats. Most places you can place big orders that you can keep in your freezer and not have to worry about picking up meats for quite some time. A personal favourite of mine is local to the Hamilton area, J.Waldron Butchers. They are a meat share company that provides the community with grass-fed beef, pork, sausage, lamb and chicken too. Once you taste products from J.Waldron, you likely won't go back to the regular grocery store meats! Yes, the price is higher than your grocery store meat pricing, but the quality, taste, and service are not comparable.
If you are not local to Hamilton, another great place to get your meat is from The Meat Merchant in Stouffville. They do free delivery in the Stouffville area and also have a shop that is still open where you can grab your meats and even some produce items.
Another personal favourite of mine is Trulocal. They are a local meat subscription box but you are not forced to commit to it monthly. Their quality is amazing and Marc and Irma, the owners of Trulocal are fantastic people.
If you are in the Caledon area, Heatherlea Farms have amazing meats and they also have produce, and other pantry goods available to purchase. You can place your order online and schedule a porch pick up at their store.
Seafood
There are actually quite a number of good option for seafood. Similiar to TruLocal, Seafood Crate is an online seafood subscription box. You select everything you like and the box gets shipped to you. Very easy, no fuss way to get delicious fresh seafood!
Caudle's Catch (based in Kitchener) has been a favourite place of mine for seafood since I have worked at Red Lobster. They supply many seafood restaurants around the city and have an excellent reputation for quality. They are currently doing curbside pick up through online and call-in orders. They even have items like Salmon pinwheels where you just have to cook in your oven and dinner is ready!
If you are not in the Kitchener area, there is Seacore Seafood Inc. They are another seafood company that has been around for many years (1987 to be exact). They sell everything from fresh and frozen seafood, frogs legs, alligator, and even pre-packaged seafood meals like Matty's Seafood (and at a really great price too)! You can order online and pick up either pick up at their Vaughan location or schedule a delivery.
If you are in Hamilton, I would highly recommend getting your fresh seafood from Hammerhead's on Ottawa street. You can get not only delicious fish and chips, homemade soups but also fresh or frozen seafood here. Best to call ahead and place your order to give them plenty of time to fulfill your seafood needs!
Produce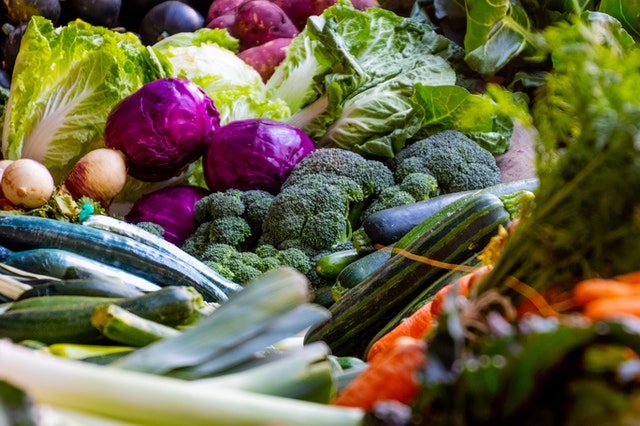 To stay healthy during these crazy times, fresh fruit and vegetables are key! In Hamilton, there are actually lots of options! You can get produce from Fiddes Wholesale Produce. They are posting their weekly produce box on their social media where you can call and order from them directly and do a pickup. You can also add eggs to your order. They also have a cash and carry shop where you can go in and buy produce as well if you do not want to do the set produce box.
Another option in Hamilton is Mustard Seed Co-op. Even though they are technically a grocery store but their produce is way better in quality than any regular store and you can do a contactless curbside pick up at their store too. They also do produce boxes as well called Local Bounty Boxes!
If you are not in the Hamilton area, a few other options include Willow Tree Farms in Port Perry. They are doing pickup and delivery orders as well.
Bamford Produce who usually does restaurant deliveries is doing deliveries to homes for produce as well. They are only delivering to Mississauga, Etobicoke, East York, North York, Toronto and Scarborough in the time being. Their produce is restaurant-quality so you know you are getting some good stuff!
Booze
I am sure you have all seen the scary line ups at the LCBO and probably want to avoid it. Many local breweries are offering delivery and pickups as well. Here are a few:
There are probably a lot more but I am not a drinker so I don't really keep track of these businesses too much. Let me know where you are getting your beer and wine!
Pantry Goods
Most of you are probably in search for flour and yeast! One place that usually has it that is pretty much in all cities is Bulk Barn. You can email them to place your order and they will have it ready for you.
Other places you can get pantry goods are Mercury Food Service and Sysco Fine Foods. Both used to only do restaurant and other food services orders. But now they have open their doors to the public.
Mercury Food Services (in Hamilton) has a list of items you can buy from them. The prices are very reasonable and you can get large bulk size that will last you awhile. Same with Sysco, they have distribution centres all over Ontario and you can order online. They have large pack sizes too since they normally serve the restaurant world.
Just found out that Tea at The White House that normally serves the local community delicious teas has pivoted during this time and is delivering essentials like produce, pantry items and of course their teas!
Coffee & Tea
Most of us cannot live without caffeine! Gone are the days we can head over to our favourite coffee shop to grab a quick cup of joe. But most of these coffee shops have adapted to our addiction to caffeine and are offering pickup or deliveries as well. Here are a few you can check out:
Patience…
One thing I do want to stress is that all these businesses are doing the best they can. Many of them are not structured to fulfill orders this way. Also, many of their employees may not feel comfortable working so they are likely short on staff. When you order with any of these businesses, please be patient and plan ahead. Place your order well ahead of when you need it. They are trying their best and will reply to your request as quickly as possible!
Did I Miss a Place?
I am sure there are tons of businesses throughout Ontario that are doing an amazing job with curbside pick up or deliveries during this pandemic. Comment below so we can see where else we can support!
Shout out to Deanne who helped me gather a list of places outside the Hamilton area!! 🙂