This is the first year I have been able to grow kale successfully in our backyard garden! I was so excited to have fresh kale throughout the summer. I often find that when I buy any type of lettuce, I am forced to buy so much that I never finish it before it goes bad. Which is why I love growing it myself. And when kale grows, it grows like crazy! I have been using it in every possible scenario from using it instead of lettuce on my burgers, kale chips and this delicious kale salad that you are gonna love!
This salad is very easy to make but the flavours are intense and makes a great side dish to any entree you are enjoying! The reason why I like this kale salad so much is because the leaves of the kale become super soft and the secret hack is that you have to massage it! Might sound funny, but trust me, massaging your kale will give you the most tender salad that really gets the flavours into the leaves.
Kale has lots of protein, fiber, and vitamin A, B, and C! When you massage the kale, it actually becomes sweeter because its cellulose structure actually breaks down. Science! Makes sense right? When we get a massage, we feel more tender and delicious too! 😉 Have you tried massaging your kale before? Let me know what you think the comments below!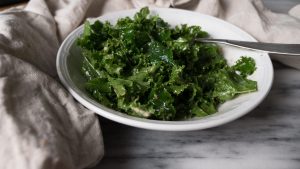 The BEST Kale Salad Hack!
Ingredients
2

cups

freshly picked kale

stems removed

1/4

cup

olive oil

1/4

cup

Parmesan cheese

1

pinch

Freshley Ground Pepper

1

tsp

light soy sauce

3

cloves

grated garlic

(Put more or less depending on how much garlic you like)

1

tsp

freshly squeezed lime juice
Instructions
Remove stems from kale and put into large bowl

Add all other ingredients and massage the dressing into the kale

The kale will become softer and reduce in size. The longer you let it marinade before eating, the better it will taste. (You can also heat it up or eat it cold or in room temperature)