When you hear Norfolk County, what do you think of? Most of you might not know where Norfolk County is! Ever since I first visited Norfolk County in 2017, I thought it was a farming community with great asparagus and didn't know much more. But every time I go back for various projects, I have discovered more and more of Norfolk County and how amazing this place really is.
Now when I think of Norfolk County, I think of this place as a place of opportunities, community, and tourism. Let me break it down as to why I feel this way!.
First off, opportunities…Norfolk County was known for its tobacco industry for quite some time. Most of the farmers in Norfolk grew and sold their tobacco plants making a great living. However, as the tobacco industry changed, many farmers decided not grow tobacco plants anymore. This is where the opportunity comes in! Instead of just moving somewhere else and selling their acres and acres of beautiful farm land, many of the farmers decided to take the opportunity to grow something else the community wanted. The soil is perfect for many crops since it is quite sandy and drains super well. Farmers jumped on board to grow everything from lavender, hops, ginseng, and to every fruit our Canadian climate can handle! I love how the generations of farmers in Norfolk took the opportunity of their great soil and ran with it to grow an abundance of different products!
Secondly, I love the sense of community here in Norfolk County. Every time I visit, the locals all have friendly faces and they are all so happy to be in Norfolk. This is something that you don't see very often in big cities like Toronto! Since there are so many farms in Norfolk County, they actually hire a lot of workers from other countries to help them farm. They put them up in beautiful accommodations and provide them a sense of home away from home. The community really banded together this year and held their very first Farms of Norfolk Football Association Tournament where soccer teams were formed from each farm and held their version of the World Cup. We visited them during the tournament and you immediately felt the love and community as the local farmers interacted with the oversea workers. It was such an awesome sight to see the unity!
And last, but certainly not least is that Norfolk County has a strong focus on tourism. They took the opportunity of all these amazing farms and turned them into tourist attractions. Many cities across Ontario have farming communities but few of them actually take advantage of it and promote it as a tourism destination for people to visit. Norfolk County does an awesome job of this thanks to Ted Willey and his team. Ted is the Business Development Supervisor for Tourism & Economic Development and in the last 5 years, they have elevated their tourism game BIG TIME! You can do everything from enjoying the beach, antique shopping, to a wine or beer tour just to name a few of the amazing tourism activities you can do in Norfolk County. Their culinary tourism is truly admirable and more counties and cities should follow suit!
I was fortunate enough to spend a quick 24 hours in Norfolk County with Ted recently and he showed me some amazing things perfect for any foodie looking for some culinary fun! Read on to see all the fun (and delicious) things I did and ate for 24 hours in Norfolk County!
First thing first, Norfolk County is only about 1 1/2 hour drive from Milton and about 2 hours away from Toronto, so this is a perfect weekend trip! But seriously, there is so much to do here, I think you can easily come here for a week and still leave wanting to come back and do more!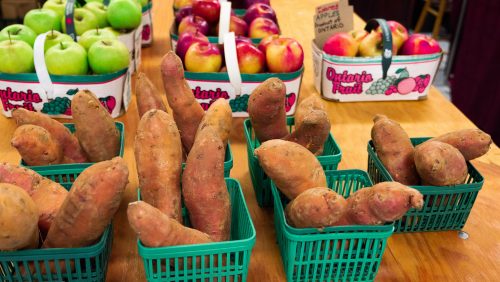 My adventure began driving over to met Ted at the Port Dover Farmer's Market. This indoor farmer's market is open Saturdays from 8am – 1pm year round! We did a video all about Norfolk County's Farm to Table scene last year and featured the Port Dover Farmer's Market, you can check it out here. This market has tons of amazing produce, cheese and meats! All the locals love shopping here!
Next we stopped by the Bear Hug Bed & Breakfast in Port Dover (Just a few minutes away from the farmer's market) and checked in to my room! This beautiful bed and breakfast is run by Diane and Craig. I love staying in bed and breakfast whenever I travel since the homes are usually really unique and it is so nice to connect with the owners to learn about the history of the home and area. Diane and Craig did not disappoint with their Victorian inspired home which is over 160 years old. It was actually the Miss John's Birthing House at one point and Diane and Craig actually still gets visitors that was born there visit! Fun fact, owners Diane and Craig are both musicians and advertising gurus! Craig was in a popular Toronto band named Edward Bear and even won a Juno! How cool is that?
Continuing our journey through Port Dover, we stopped by The Crepe House for a nice patio lunch. The Crepe House is a Port Dover favourite! The restaurant first started in 2005 as a mobile cart and they soon bought a house, renovated into a commercial kitchen downstairs and living quarters upstairs. And like they say, the rest is history. The Crepe House prides itself on serving local products as well! The Food Network's You Got to Eat Here even stopped by the Crepe House! We tried the Pierogi Crepe and also the Uptown Crepe which were both HUGE and delicious! The ingredients were fresh, tasty and bite after bite, I wanted more! They have both savoury and sweet crepes here so if you are looking to satisfy your sweet tooth, why not try the Butter Tart Crepe or their Seasonal Summer Crepe!
Next stop, we checked out the Field to Flour event at the Backus Heritage Conservation Area. This conservation area is great for the outdoor lovers! You can hike, camp, and even fish here! If you love history, you can check out their war re-enactments during specific times of the year as well. During the weekend I visited, they were featuring a Field to Flour event where you experience the whole flour making process from cutting and flailing wheat, grinding wheat into flour in the Backhouse Mill. They even baked some traditional breads and desserts for visitors to taste and experience. Sheila, the curator of the Backhus Heritage Conservation Area prepared some amazing baked goods for everyone to try. It was also super neat to see how they baked without a conventional oven that we are all so used to baking in.
It's not often you get to visit a food processing plant, so when Ted mentioned that we were going to stop by the Norfolk Cherry Company to see them process their cherries, I was super excited! It is so neat to see how a product goes from the farm to a restaurant for that pie you are going to order! Cherry season in Ontario is short and we came at the perfect time when they were smacked in the middle of processing cherries 24 hours a day! Owners Brett and Carrie work tirelessly to maintain high quality on their products. Brett showed us around the processing facility and we were able to see every step from how they cool down the cherries (omg it was COLD!) to how they pit them to their final product! The cooling process makes pitting the cherries easier. I learned that pitting cherries is not an easy feat, the cherries fruit and the seed have the same density making it very hard to take the pits out. They process about 10 million pounds of cherries each season! That's a whole lot of cherries! Fun fact, in North America, the average person only consumes half pound of cherries annually! I feel like this is so low!! I feel like I eat a half pound of cherries per sitting! 😛
Next door to the cherry processing plant, Brett and Carrie owns Woolley's Lamb which is honestly the most serene experience! They have hundreds or lambs and sheep just hanging out in their own space with lots of grass to graze on. To protect the lambs and sheep from any predators like coyotes, there are two beautiful sheep dogs that keeps a close eye on them. It is so amazing to see animals living in their natural habitat and you can really see how happy they were. I really want to visit again to see them up close. (It was raining when we visited so we didn't venture into see them up close!)
After a full day of adventures in Norfolk County, it was time for another meal. We stopped at the award wining Burning Kiln winery where we toured the beautiful vineyards and enjoyed some dinner. The Burning Kiln winery use to be a tobacco farm as well and now have switched completely into a vineyard. The grapes produced in this soil results in amazing wines that will get you to put Norfolk wines on your must try wine list! Not only does the Burning Kiln create delicious wines, but they also have amazing food and a beautiful venue for your next party. Amazing dinner, delicious wines and a breath taking view – what more can you ask for to end off the night?
After a very filling meal, we rolled our way back to the bed and breakfast and slept the night away!
Part 2 of our 24 hours in Norfolk County is coming soon!! You don't want to miss it!
*Disclaimer: This was a sponsored trip. As always all opinions are my own!*