You often hear about amazing Culinary Tourism spots around the world. Like Switzerland and their award-winning chocolates. Or Thailand, where you can learn to cook authentic Thai cuisine in the most rustic of settings. And in the case of Ontario, there are some great Cape Town wine tours. Allow me to introduce you to one of Ontario's best kept Culinary Tourism secrets- Oxford County, home of the Oxford County Cheese Trail and The Dairy Capital of Canada! Oxford County is just an hour and a half away from Downtown Toronto and features some of the province's best cheese and some amazing culinary finds you can find in the Golden Horseshoe!
The Oxford County Cheese Trail is designated, county-wide route that is dotted with five award-winning cheesemakers, dairy farms, and sustainable food producers. You can drive from end-to-end and have an amazing culinary experience each stop along the way. The cheese that you'll find on the Trail is among Canada's very best, and the milk used to produce it also comes from within the county. It's a self-sustaining, supportive microcosm that I think the 'support local' movement in every way.
My first stop of the day was Bright Cheese & Butter. Founded over 140 years ago, Bright Cheese & Butter is famous for their cheddar cheese, which is of course made using local milk from dairy farmers. They are the oldest remaining cheddar factory in Canada and have been in the same location since they opened in 1874 (barely 7 years after Confederation, making this business nearly as old as our country). Once you step inside, you will not only find their amazing selection of cheeses, but also an array of other local food products from Wellesley's Apple Butter to Barrie's Asparagus products! If you are ever in a pinch to buy a gift for the foodie in your life, come here and grab one of everything, it will make the perfect gift! Their cheddar cheese is simple and delicious- no need to mess with a cheese recipe that have been tried and true to perfection over a century of cheese-making tradition.
Next we stopped by the beautiful Elm Hurst Inn & Spa. A breathtaking historic landmark. Built in 1865, this was actually the home of James Harris Cheese Factory. Shortly after the cheese factory was built, the famous 7300-pound "Mammoth Cheese" was made here. Local cheese producers wanted the world to know about Ingersoll's wonderful cheese makers and decided to create a 7300 pound wheel of cheese to make it official! Talk about go big or go home, eh? Now Elm Hurst Inn & Spa is home to luxurious weddings and private events. You can also stay overnight at the inn, grab a bite at the in-house fine dining restaurant or pamper yourself at the spa.
A visit to Oxford County is not complete without learning about the rich history of this town. The Ingersoll Cheese & Agricultural Museum includes seven different buildings including a replica 19th century cheese factory. The staff working at the museum were so accommodating and friendly, and went into great details touring and explaining all the exhibits in the museum. It was so neat to see original pieces from hundreds of years ago and to see how cheese-making technology has changed in the last decade. If you are a history buff, make sure you put this on the top of your list for your next visit to Oxford County.
So as you can see, there's a ton of cheese in Oxford County (and while I was there, definitely no shortage of cheesy jokes). But the Oxford County experience also extends beyond the world of cheese and dairy. Because what else is milk often added to? Why, chocolates and teas, of course! If you are a huge fan of these two things, all your dreams will come true at my new favourite store, Chocolatea. I seriously think I was meant to discover this store because honestly, chocolates and teas are two of my favourite things in life! Owners Cindy and Steve use local ingredients like honey, beer, and maple syrup to make their hand crafted, one-of-a-kind chocolates. Cindy conjures up classic flavours like Salted Caramel but also experiments with different flavours like Passionfruit and even Coconut Curry. They are also tea Sommeliers and can brew a mean cuppa tea. I knew I was going to love this place before I even step foot into it (if I close my eyes I can still bring back memories of how great it smelled). But the owner's passion and dedication to serve their customers high quality teas and chocolates made the experience even better. I will stop by this shop every time I visit Oxford County. No doubt about it!
Next, we stopped by Leaping Deer Adventure Farm. This is a great place to take your family for a fun-filled day at the farm. Petting zoo, mazes, farming workshops for kids. But the real star of the show here is Leaping Deer Bakery & Cafe. Three words: Apple Pie Bread. Yes, it's a thing, here. And with an entire menu of recipes curated by Mrs. B and Farmer Budd, this place serves some of the best comfort food that I've ever had. Everything's made-to-order, and made with local ingredients. Leaping Deer really exemplifies that simple local ingredients makes delicious food. We had a great conversation about farming and his John Deere collection (a colour scheme which didn't go unnoticed in their store!) with Farmer Budd while enjoying a juicy burger and their famous apple pie grilled cheese sandwich. We topped off our meal with Mrs.B award winning Maple butter tart. There's no need to go to a fancy restaurant, Mrs. B will whip up an amazing meal for you here. My stomach is grumbling just thinking about the food!
Last stop for the day was Gunn's Hill Artisan Cheese. This is a newer cheese plant that has made a huge splash on the scene, and with good reason. Their Swiss-inspired cheese is to die for. One bite and you will be asking cheese maker Shep Ysselstein for so much more. Shep's family owns a nearby dairy farm, which is where they source their milk to make these award winning cheeses. We got an in-depth tour of the cheese factory and it felt like Willy Wonka meets Discovery's "How It's Made"! It was so interesting to learn how to make cheese from an expert and to understand the dedication and patience required to make quality products – Amen cheese makers!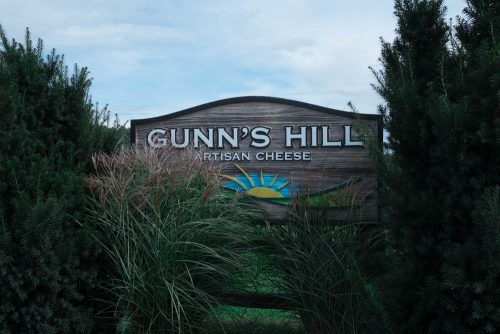 What an amazing time I had at Oxford County! Even though we spent a good portion of the day here, we didn't even see half of the amazing attractions yet. There's so much more to be seen, done, and eaten in Oxford County. I'll be back for another full day to continue to explore this great part of Ontario. If you are looking for a quick weekend or day trip that is not too far from Toronto, look no further. Book your trip to Oxford County now. Your belly will leave happy- I guarantee it.
Disclaimer: This post is sponsored by Oxford County Tourism but as always, opinions are my own.