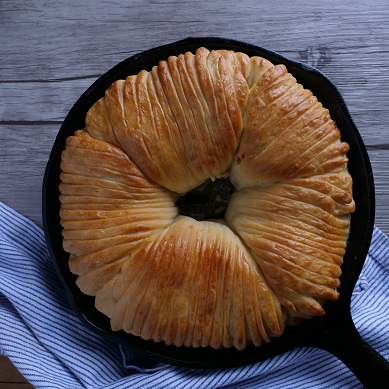 In the last year during the global pandemic, everyone feel in love with baking! I love this trend and I am happy to see that people are still baking away in their kitchen. Last year we saw everyone baking sour dough bread, milk bread, and now wool bread. Have you seen this beautiful creation?
What is Wool Bread?
If you haven't heard of this bread, you soon will! Wool bread is just a simple milk bread recipe and you can fill it with sweet or savoury fillings. The filling options are endless and you can definitely get creative with it. The name Wool Bread was given to this bread because of the design of it. People think it looks like spool or wool or yarn – hence the name Wool Bread!
Where did Wool Bread Come From?
There are no clear indication of where this fun recipe came from. But if you investigate a little further, there are a few possible country of origin. Vietnam and Malaysian bloggers seem to be first to create this recipe. Wherever this recipe come from, it is delicious and definitely Instagram worthy.
So, How Do I Make Wool Bread?
Once you know the technique, you will be happy to know that it is actually a very simple recipe. The proofing is probably the thing that takes the longest time.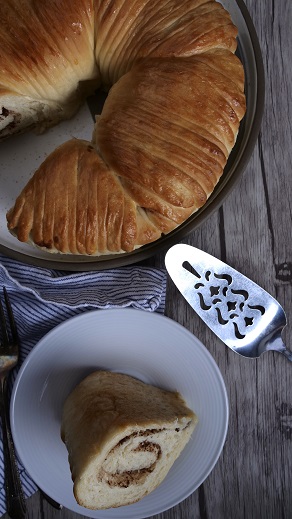 How to Make Wool Bread
Ingredients
For the Dough
1

large egg

Pinch of Salt

1

TBSP

Sugar

1/2

cup

room temperature whole milk

1

pack

active dry yeast

(2 1/4 tsp)

2

cup

all purpose flour

(You may need a little more)
For the Filling
1

tbsp

ground cinnamon

1

tbsp

white sugar

2

tbsp

butter

2

tbsp

whole milk
Instructions
In a large bowl, add egg, salt, sugar, milk, yeast and flour and combine together until dough forms

Cover the dough with a wet towel over the bowl it is in and leave it in a warm place (or an oven with a proof setting) for about an hour

While the dough is rising, make the filling.

In a small sauce pan on low heat combine cinnamon, sugar, butter and milk until melted. Turn off heat and set aside to let cool.

Once the dough is done proofing, divide the dough in five smaller dough balls. Cover and let rise again for 30 min.

Roll each dough ball into a regtangular shape and on the bottom half of the dough, add a thin layer of the cinnamon mixture.

On the top of the rolled out dough, use a pizza cutter or dough scrapper and cut the dough in thin strips (think of a comb)

Roll the dough from the side of the cinnamon filling up to the cut edges.

Repeat for all 5 pieces of the dough and put into a cast iron pan or cake pan.

Let rise covered for another 30 minutes.

Brush top of bread with milk

Bake for 15-20 minutes or until the top is golden brown. Remove from oven, cool and enjoy!
Other Wool Bread Filling Ideas
I love how versatile this recipe is! Some other filings you can put inside this bread are:
Garlic and Cheese
Garlic, butter and herbs
Nutella and hazelnut
strawberry and peanut butter
And so many more! Be creative and try it out!
Have you tried making Wool Bread yet? If you tried this recipe out, tag me on social media @joyceofcooking and let me know what you think!