This is a sponsored post, but as always, opinions and recipe are my own.
Jump to Recipe –
Print Recipe
When our Canadian summer dwindles down, one of the things I am sad to see no longer in season is our strawberries. Lucky for us, we can get some amazing California Strawberries this time of the year, which satisfies my strawberry obsession! Whew! Thank you California Strawberries for coming through!
California Strawberries are not only super tasty but also very good for you! I love snacking on them throughout the day to give me a little energy boost! They are an excellent source of Vitamin C, which we need as flu season approaches! A serving of 8 California Strawberries has only 50 calories and is a good source of fibre! I also love the fact that they are super versatile and can be incorporated into many delicious recipes that are both savoury and sweet dishes! (Think strawberry salsa on top of salmon to an array of tasty desserts!)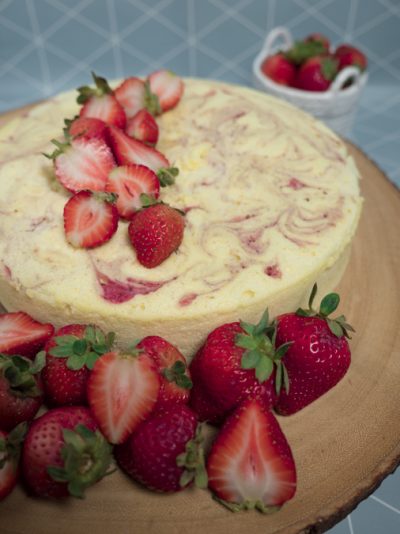 I love cheesecake, especially Japanese cheesecakes. I also do not want to wait around in an hour line to get one! So, I did what any baker would do, I decided to create my own recipe so whenever I have a craving for it, I can simply make it myself! If you have not had Japanese cheesecake before, I will give you the Cole's notes version of why it is so amazing! It has an amazing fluffy and jiggly texture, also requires very little sugar. The texture is light so you do not feel weighed down after gobbling up a slice of cake! It is also very easy to incorporate some tasty flavours into it like matcha, mango, and of course strawberry!
Some FAQ on Japanese Cheesecake:
Is it gluten free? Not this recipe, since I am using regular flour. But you could substitute it with gluten free flour and add ingredients like cream of tartar which acts as a stabilizer and holds the cake in place. You will definitely need this if you are using gluten free flour!
Can you make a keto version? Yes! You can again substitute the flour to the gluten free one; add your cream of tartar. In addition, I would eliminate the sugar in the recipe.
How do I store the cake? Can you freeze the Japanese cheesecake? If you are planning to eat the leftover within 3 – 4 days, you can just store it in your fridge. If you like to save it for later, you can freeze any left over in an airtight container. I would not recommend freezing it in a zip top bag since it might change the texture of the cake once thawed.
What are tips to get the soft, fluffy, jiggly texture? First thing first – patience! The oven is on a lower temperature since you want to bake this cake low and slow! Also, you might be very tempted to beat the egg whites to very firm peaks, but the soft peaks really helps with creating the jiggly part of the cake! The stiffer the egg whites are, the less likely you will get the desired texture. Lastly, you need to use a water bath method to cook this cake. This will help the cake keep its moisture!
Even though the regular Japanese cheesecake with no flavouring tastes amazing and quite satisfying, I like to actually add California Strawberries into my version of the cake to give it a little extra flavour boost! You can actually add less sugar into the batter if you are planning to add the strawberries in.
An important thing to keep in mind is that the pureed strawberries are a little watery, so you do not want to dump a lot into your batter. If you put too much, it will completely change the texture of your cake and you will not get the safe soft fluffy texture! (and no jiggles either!)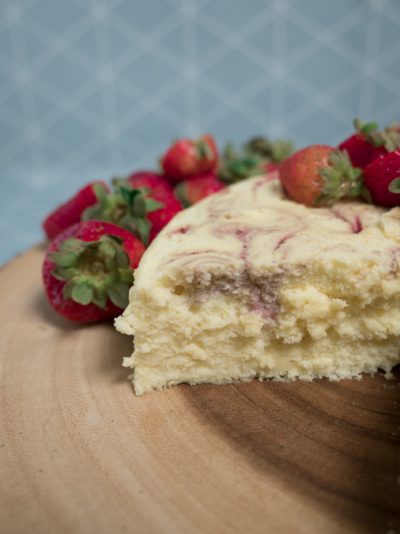 If you are like me and love both strawberries and Japanese Cheesecakes, you have to try this Strawberry Marble Japanese Cheesecake recipe out!
Print Recipe
Strawberry Marble Japanese Cheesecake
Ingredients
1

cup

2% milk

6

large eggs room temperature

(whites and yolks separated in two bowls)

250

grams

cream cheese

(which is one block of the regular sized cream cheese)

2

TBSP

unsalted butter

1/2

cup

All Purpose Flour

3

TBSP

corn starch

1/4

cup

granulated sugar

1

cup

California Strawberries

(pureed in blender)
Instructions
Pour 1 cup of California Strawberries into blender and puree and set aside

In a double boiler, melt together milk, cream cheese and butter. Set aside and cool.

Once the mixture is cooled, add 6 egg yolks. Whisk vigorously to avoid any of the egg yolks scrambling

To this mixture, add the flour and cornstarch and whisk to get a smooth batter.

In a separate bowl or mixer, add all the 6 egg whites and beat on high, add the 1/4 cup sugar gradually until you have SOFT peaks in the egg whites.

Fold the egg whites gently into the cream cheese mixture.

Pour half of the batter into a round cake pan and bake in a water bath (so you can set up a large turkey roaster with hot water inside and place the round cake pan into it).

Add 10-15 drops of the California Strawberry puree into batter and swirl around with a toothpick or chopstick

Add remaining half of the cake batter on top

Add 10-15 drops of the California Strawberry puree into batter and swirl around with a toothpick or chopstick

If you are using a silicone bake pan, you do not need to line it. If not, line it with parchment and butter to prevent sticking.

Bake for 1 hour 10 minutes (Might take a little longer depending on how hot your oven gets). The cake should release from the side of the pan very easily. If it doesn't you will need to make a little longer
Notes
For more tips and recipes using California Strawberries, head over to their site here.