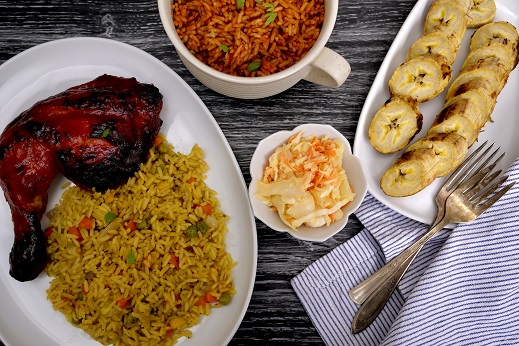 The Hamilton food scene is growing again! Hooray! Even though we are still in the middle of a global pandemic, passionate people are still opening up restaurants throughout the city! (And boy are we glad they are!)
Hamilton, meet your newest Nigerian Restaurant, Taste of Lagos. Located in the heart of downtown Hamilton (inside Jackson Square to be exact). Currently, they are running a virtual restaurant out of Venti Cafe and you can order from all your usual delivery apps and of course directly with them too!
Owners Victoria Adefala and Funmise A. Oladeji opened up Taste of Lagos right before the pandemic lockdown started in March. With pretty much the whole city closed, they were unsure of their future. Luckily, Hamiltonians love food and trying new dishes and cuisines, and Taste of Lagos has been thriving even with the lock down.
Victoria and Funmise decided to open up a Nigerian restaurant in Hamilton because they noticed that there was no restaurant in the city that represented their culture. With a growing Nigerian population in the city, they took the opportunity to showcase the food of their hometown. They "wanted to find a way to create a community to connect, empower and motivate African diasporas in Hamilton" said Victoria.
If you haven't tried Nigerian foods before, you are in for a treat. Both delicious and nutritious, you will not be disappointed. I love how Nigerian food is full of so much flavours! They use amazing spices and herbs that really makes your taste buds happy.
One of Nigerian's signature dish is Jollof Rice (or better known as Jrice in the Nigerian community). This rice is stewed with tomatoes and peppers which gives it a nice touch of spice that just tickles your throat when you eat it. This is a rice dish that is native to West African culture. It is recommended you eat jollof rice with some chicken, goat or any other protein.
I was lucky enough to try a bunch of their dishes the other day and let me tell you, none of them disappointed. I am already craving more!
Pictured below from Top left: Zobo Sorell Chapman – a refreshing sweet drink made with zobo sorell flower petals that have been infused.
Top Right: BBQ Chicken – Not much description needed – delicious and juicy BBQ chicken that is full of flavours! You can tell the flavours are marinated into the chicken and not just sitting on the top!
Bottom Left: Jollof Rice – A must try if you are new to Nigerian foods. Flavourful rice dish!
Bottom Right: Roasted Plantain – a perfect side dish with your meal. Starchy and mild in flavours, the plantains completes your meal!
If you are not a fan of chicken, there are other protein options like steak and goat as well. They even have delicious vegetable fried rice if you don't eat meat at all.
I highly recommend you give this restaurant a try. The owners are so passionate about their foods and you can just tell there is so much love and care that they put into every dish. Have you tried Taste of Lagos? Comment below and let me know!
GIVEAWAY ALERT! From July 6-10, 2020 I will be doing a giveaway on my Instagram feed where you can win a $35 gift card from Taste of Lagos. So head over to my Instagram feed and follow for all the details!