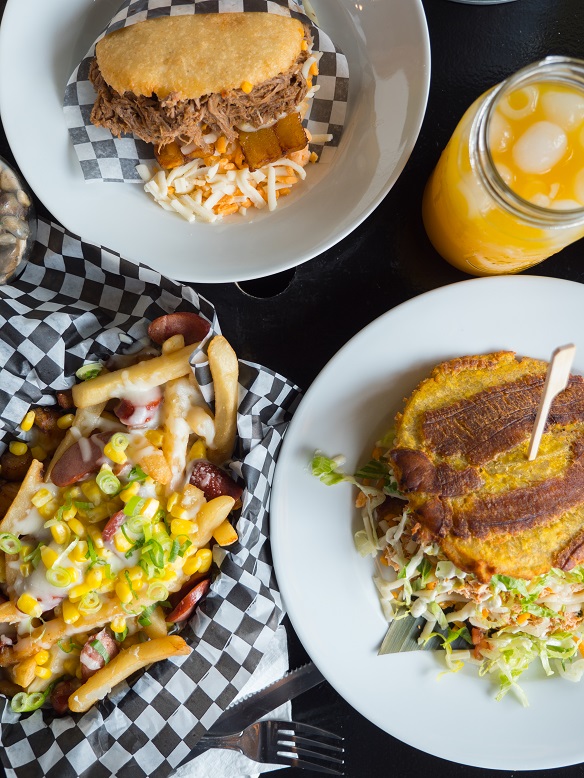 We might not be visiting any foreign countries this year but if you live or visit Hamilton enough, you know there are tons of restaurants serving foods from around the world.
Let me introduce you to the newest one in town, Flavours Latin Cuisine. Recently opened in the summer of 2020 after originally opening in March when the pandemic initially hit and shut down all restaurants.
Owners, Carlos, Jhon, and Maria wanted to open up a South American street food restaurant in Hamilton because they wanted to share with the Hamilton community a bit of South America and the mixture of Flavours between some countries. South American food is so full of flavours that we are glad they decided to set up shop here in Hamilton!
The three owners all bring in different strengths to build an amazing restaurant but their passion for great service and delicious food really shines through! Carlos is Peruvian and loves to play around with food flavours and to invent new things. Jhon, from Colombia, is a big foodie and really wanted to showcase South American food and offer people new options to tantalize their tastebuds. And Maria, the manager and kitchen leader is the brain of all this, creating and inventing new things in the kitchen!
When you walk into the restaurant, it is brightly decorated with a beautiful mural all around the shop. Design of the restaurant is simple, classy and very homey. You feel right at home eating here. I can almost close my eyes and pretend I was actually on vacation! (I wish!!)
Now let's talk about their menu and food! They have a nice sized menu with everything from kids items, appetizers, patas, arepas, juices, and desserts! Let's talk about one of their most ordered menu items – Patacones aka Patas. If you are not familiar with this item, it is essentially delicious veggies and meats sandwiched between two twice-fried green plantains. I tried the "Short Flight" which has shredded chicken but you can get ones filled with beef, pork, sausage and even a vegetarian version! And bonus, it is gluten-free!
Arepas are also very popular. It is a fried ground maize dough filled with different vegetables and protein. Arepa Cerda is their most famous gluten-free sandwich (corn flour base) and I can see why. The combination of the slightly sweet maize dough, plantains and the savoury filling make it a winning combination.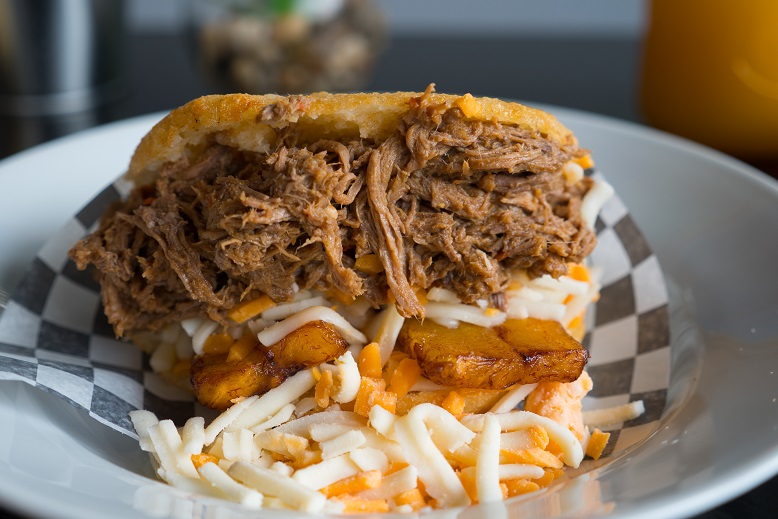 Another delicious dish to try is the Special Salchipapa which includes sausages, fries, plantains, cheese, corn, and green onions. The dish is super colourful and so comforting! This is a very common street food you will find in South America!
To to top it off don't forget a refreshing mango juice and if you have room, a flan for dessert! I have always been a fan of flans and this one did not disappoint! Next time I definitely want to try their alfajor, a Dulce de leche cookie! How good does that sound?
They also have some amazing homemade sauces with flavours like pineapple, chimichurri, bacon, and garlic mayo that they bring right to your table.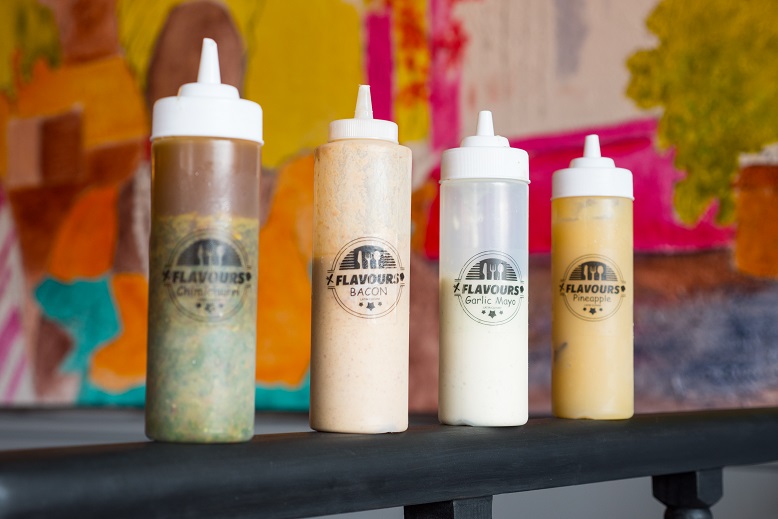 I highly recommend you give Flavours Latin Cuisine a try! Their passion for serving delicious food in a fun environment is very refreshing. Also, their menu is very approachable and everyone in your family will definitely find something they like!
Flavours Latin Cuisine is located at 261 Queenston Rd, Hamilton, ON L8K 1G9 (corner of Queenston Road and Parkdale Ave South. There are free parking spots right behind the restaurant off of Parkdale and additional free 2 hour street parking on Parkdale as well.
Thank you to Carlos and his team for hosting me at Flavours Latin Cuisine! I cannot wait to come back and try some more delicious food!