Let me introduce to you Mike Lunch and Rebecca Gaus of Mat Salleh, one of the newest vendors at the Hamilton Farmer's Market. If you haven't read my previous article about the Hamilton Farmers' Market, you can see read it here. The market is full of amazing vendors and lots of amazing foods from around the world. When I heard there were hand-pulled noodles at the market, I knew I had to give it a try!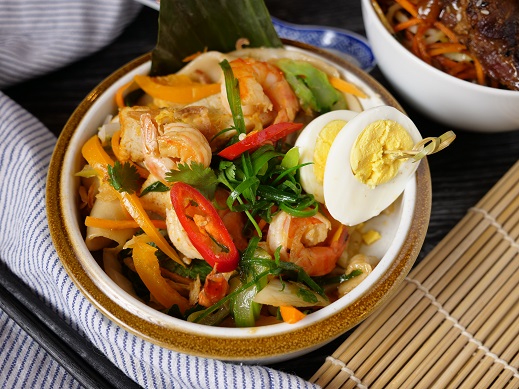 Mike and Rebecca have a lot of experience in the food industry and have operated a food truck before opening up Mat Salleh. Mike's love of Asian food stems from years of working with the famous Montreal Chef Nantha Kumar. If you haven't heard of Chef Nantha, he started doing pop-ups before it was cool to do them! Chef Nantha and Chef Mike did popups in Hamilton too including at The Big Tobacco, Casbah Lounge, NietBar and they hope to do more in the future! They dished out traditional flavours from Malaysia and Indonesia.
With years of working alongside Chef Nantha, Chef Mike fell in love with the flavours of the pacific rim and his ultimate goal was to open up his own restaurant serving the flavours from the pacific rim. And I am happy to say, he has achieved his goal!
Mat Salleh opened up in the Hamilton Farmers' Market a few months ago. When Mike and Rebecca first took over the stall, they took some time to get to know their customers and what types of food they love. They have now launched an amazing menu that really pays homage to Asian flavours and uses local ingredients!
Let's Talk Hand-Pulled Noodles
So you haven't tried Asian hand-pulled noodles before, you are missing out! We are so lucky to have Mat Salleh now in Hamilton! Hand-pulled noodles are exactly what they sound. They are noodles that are made by hand, pulled and stretched to make delicious chewy noodles. They are usually smacked on the countertop a bunch of times so that the gluten develops which creates those famous chewy noodles we all love!
What's on the Menu?
I love that they keep their menu simple and small. Right now they have Tom Yum Prawns, Five Spice Pork Side Ribs, Zen Vegan, and Pork Belly Nugs. They will likely keep the five-spice pork dish since it is the most popular but the other dishes might rotate! So every time you go, you might be able to try something new and delicious!
What Does Mat Salleh Mean?
If you are wondering like I was what "Mat Salleh" means, it is a Malay expression for white people. Not in a derogatory way. It is just a saying the Mayalisans use. I really love that Mike and Rebecca love Asian flavours so much and have dedicated so much of their lives to learning about the culture, food, and flavours of Asian cuisine that they opened up a restaurant dedicated to it! Not all good Asian restaurants are owned and operated by Asian people only! It really shows how food can bring people of different cultures and backgrounds together!
If you haven't been to the Hamilton Farmers' Market in a long time, it is definitely time to check them out. There is also free 1-hour parking across the street (just bring your ticket to the market and have one of the vendors stamp it).
Tried Mat Salleh? Comment below and let me know which dish was your favourite!