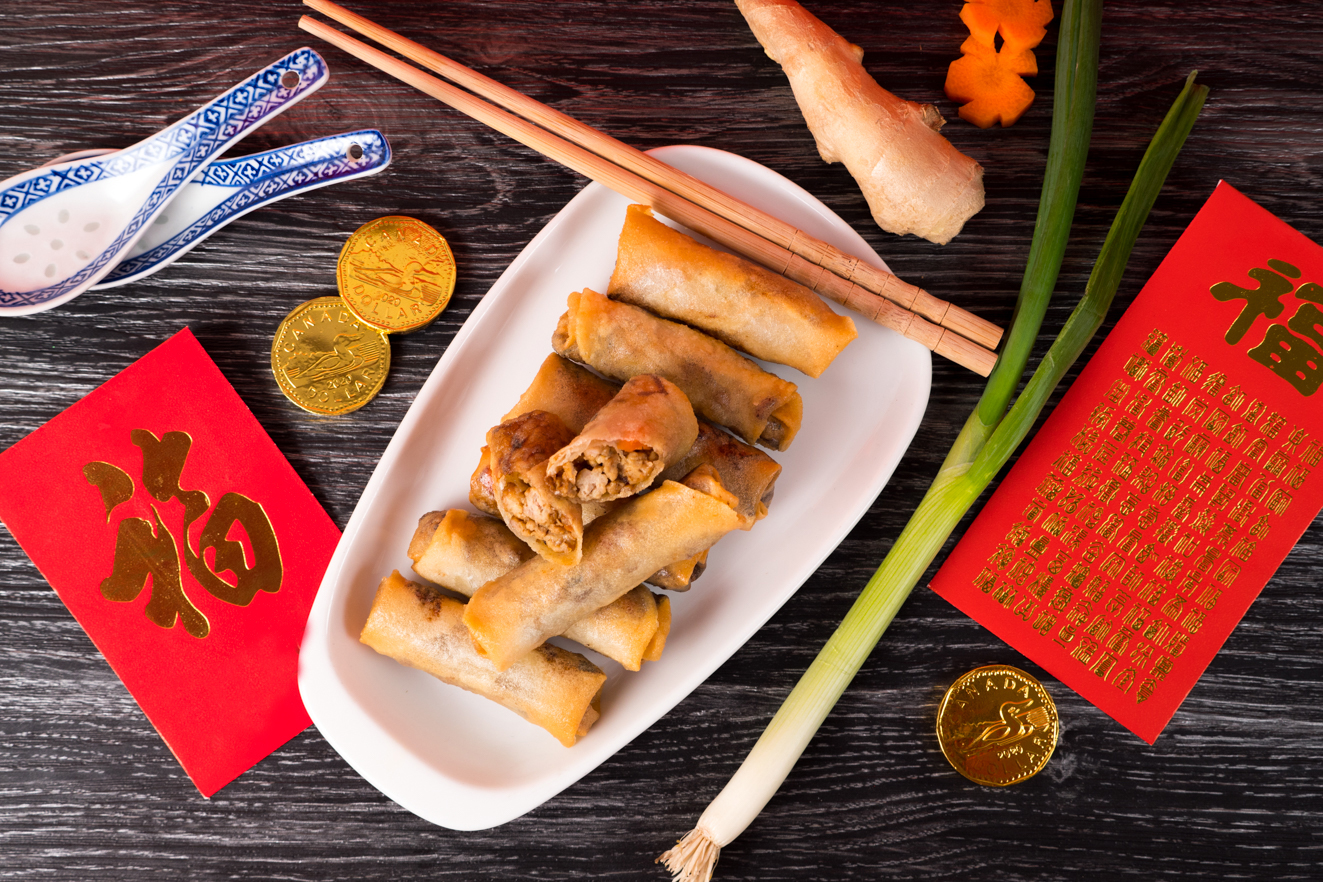 Jump to Recipe
This is a sponsored post. But as always recipe and opinions are my own.
Chinese New Year is right around the corner and there are some dishes that we always eat in celebration of the New Year! Most dishes signifies something for Chinese New Year like spring rolls mean good fortune, dumplings means wealth and noodles symbolizes longevity. And I am just naming a few here!
Most of the time spring rolls are made with with only vegetables or sound sort of ground meat. Chicken and pork are probably the most common meats in a spring roll but using turkey is actually a great tasting substitute. Spring rolls are usually consumed during the New Year as a snack or an appetizers and since a Chinese New Year meal can stretch for a couple of hours, it is nice to have a somewhat filling snack like a turkey spring roll before the big meal. Since turkey is  a lean choice that's high in protein, it is super delicious in a spring roll. I love using turkey because it is such a lean meat that it doesn't make the whole spring roll super greasy. (since it is deep fried!) Also, Chinese New Year falls in January or February and after a month of indulges during Christmas, it is nice to have a lower fat option. Did you know that turkey is a nutritional powerhouse?  Turkey is considered a quality protein with about 30 grams of protein in every 100-gram serving.  It's nutrient-rich, too.  This means that it has a lot of nutrients per calorie.  Another bonus – both white and dark meat are considered lean.  If you're looking for a heart healthy, low fat choice – turkey breast is it, with just 3 grams of fat in every 100-gram serving! Who knew eating spring rolls can have some many benefits!? 😛
Since turkey has a nice mild flavours, I find it works really well with Asian flavours like garlic, ginger and soy sauce. It really absorbs those flavours nicely!

Spring rolls are one of my favourite dishes to make because it is so easy to make ahead of time, freeze, and fry up when it is almost party time! You can make a big batch ahead of time and always have them ready to go!
I love how spring rolls are so universal and almost everyone experienced tasting one before making it a pretty safe dish to bring to a party. This is also a great recipe to start with when you are learning how to cook Chinese food!
Are Spring Rolls Gluten Free?
Traditionally no, spring rolls are not gluten free since the wrappers are made out of flour and the soy sauce is not gluten free. However, you can definitely make modifications to create a gluten free version. Simply use a gluten free soy sauce and also get rice paper wraps instead of the regular spring roll wraps. The texture will be a little different but you can definitely still enjoy a slightly modified version of this recipe!
Can You Freeze Spring Rolls?
The best way to freeze your spring rolls is to freeze it before you fry them. When you finish rolling them up, put them on a cookie sheet making sure they are not sticking together and pop them in the freezer for about half an hour. Remove them from the tray and put them into a zip top bag and freeze. When you are ready to enjoy them, you can simply take them out of the freezer and deep fry. You don't need to defrost them either! Just pop them into the oil. If you fried your spring rolls already and have some left overs, you can store them in an air tight container for about 3 days in the fridge. You can pan fry the leftover or simply put them into a 400 F oven for about 5-10 minutes to crisp them up!
Steps To Making Spring Roll Filling
How to Roll a Spring Roll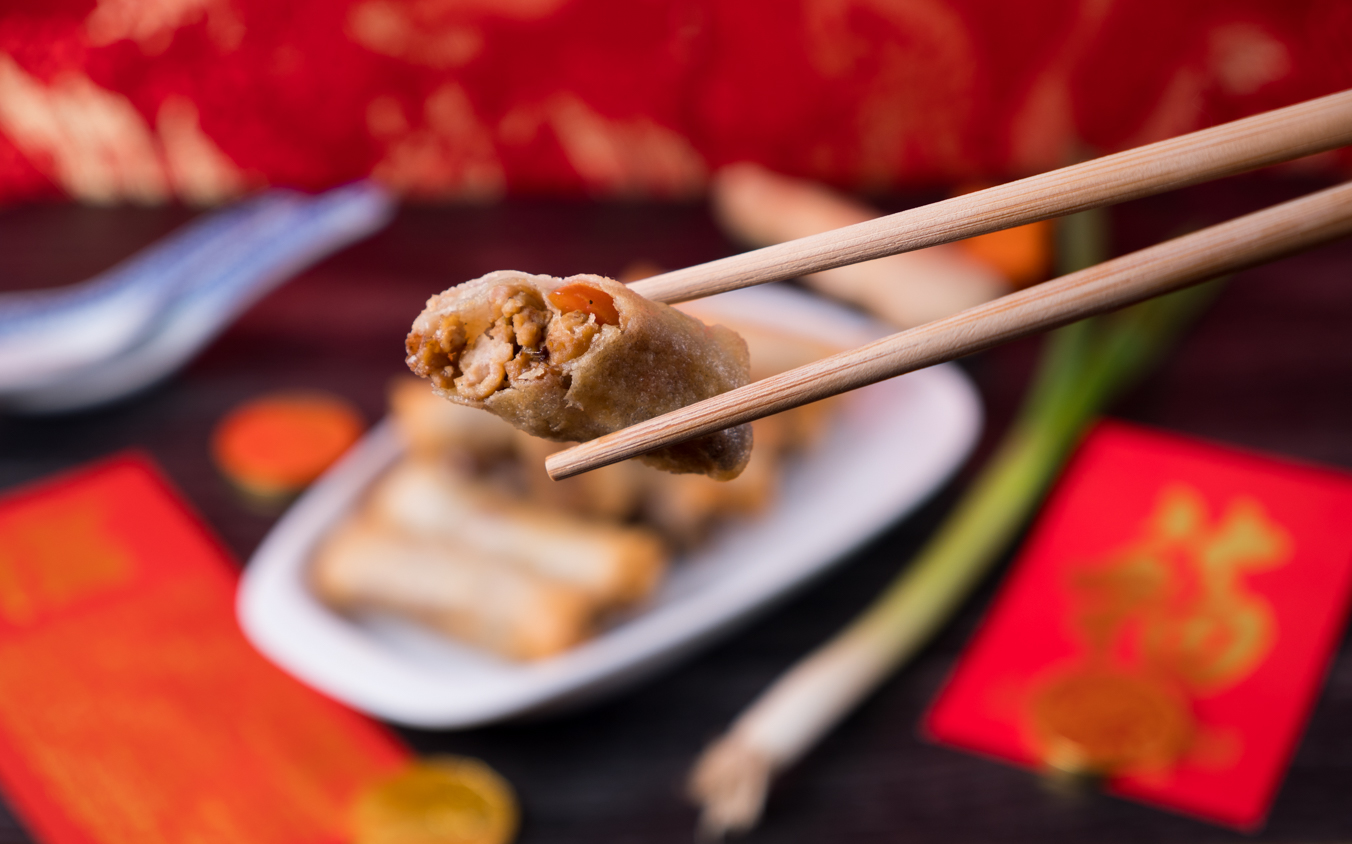 Have you tried making your own spring rolls before? Let me know by commenting below. For more delicious turkey recipes and tips, head over to Canadian Turkey's website! #TryTurkeyToday
Print Recipe
Good Fortune Turkey Spring Rolls
Simple and Delicious Recipe to Ring in Chinese New Year!
Servings:
20
Spring Rolls
Ingredients
1

TBSP

vegetable oil

3

cloves

garlic finely minced

1

tsp

grated fresh ginger

1

stalk

green onion chopped

1/2

lb

Ground Canadian Turkey

1/2

cup

cabbage sliced thinly

1/2

carrots peeled and thinly cut

1

TBSP

soy sauce

1

TBSP

oyster sauce

pinch

Fresh Ground Black Pepper

1

tsp

cornstarch

20

frozen spring roll wrappers defrosted

2

cups

vegetable oil for frying
For Cornstarch Mixture
1

TBSP

cornstarch

1/4

cup

water
Instructions
In a large pan or wok, add vegetable oil, garlic, ginger, green onions, ground turkey and stir fry until turkey is mostly cooked throug

Add cabbage, carrots, soy sauce, oyster sauce, pepper, corn starch and mix to combine. Cook until cabbage is soften.

Let mixture cool (spread onto shallow baking sheet to speed up cooling time)

Mix remaining cornstarch and water in a separate small bowl (this will act as the glue to stick the spring rolls together)

Fill each wrapper with a tablespoon of filling and roll, seal with cornstarch mixture

Fry till golden brown and enjoy!