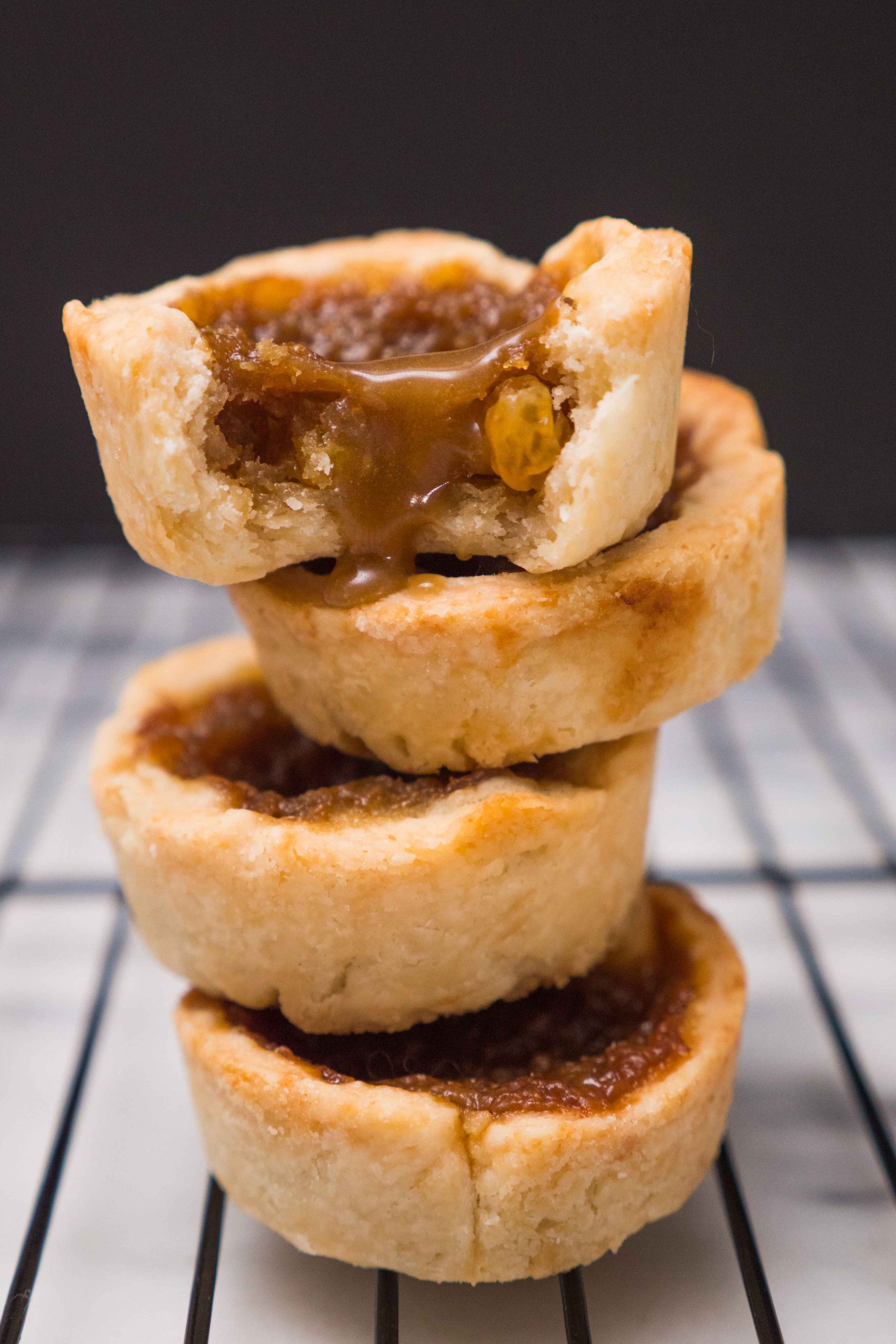 Jump to Recipe
This is a sponsored post with California Raisins but as always, recipe and opinions are my own.
If you are from Canada, you are probably very familiar with the iconic butter tart. If you are not from the Great White North, have no fear! I will tell you everything you need to know and also show you a very easy recipe to create these delicious treats!
What is a Butter Tart?
A butter tart consists of a simple pastry filled with sugar, butter, eggs, and fillings like raisins or walnuts! There is always a heated debate on whether you should have a thick or runny filling but that is completely up to your preference. Both are delicious and you really cannot go wrong with either option!
What is the History of Butter Tarts?
The earliest recipe is from 1900 and can be found in The Women's Auxiliary of the Royal Victoria Hospital Cookbook. You can see Mrs. Malcolm MacLeod's recipe here. Ever since that first published recipe, Canadians have been enjoying these delicious treats! Every year, cities across Canada celebrate the butter tart and some even have competitions for who can create the best butter tarts!
To Raisins or Not to Raisins
As you can see in Mrs. Malcolm MacLeod's recipe, she used "currants." Today, however, there is an ongoing and heated debate about whether raisins belong in butter tarts. I stand by the original recipe and think butter tarts are delicious with raisins, especially California Raisins. They add a different, chewy texture and an element of surprise when you bite into the tart.
What Type of Raisins Should I Use?
You can use either dark or golden raisins in your butter tart recipe. When I make my butter tarts, I prefer using Golden California Raisins since I find them juicier, not as sweet, and an overall perfect pairing for the butter tart filling. Of course, you can use dark raisins and your butter tarts will still be delicious! If you are a fan of California Raisins, check out my other recipes here: Cinnamon Raisin Babka & Raisin Hot Cross Buns or if you'd like to learn more about why California Raisins are awesome, head over to their website!
Have You Tried Butter Tarts?
If you haven't heard of or tried butter tarts before, don't worry, you are not the only one. But you are missing out! You can find butter tarts everywhere in Canada from the farmers' market, to local bakeries, but they might be harder to find around the world. The good news is that they are easy to make, and even better news, I have the recipe for you!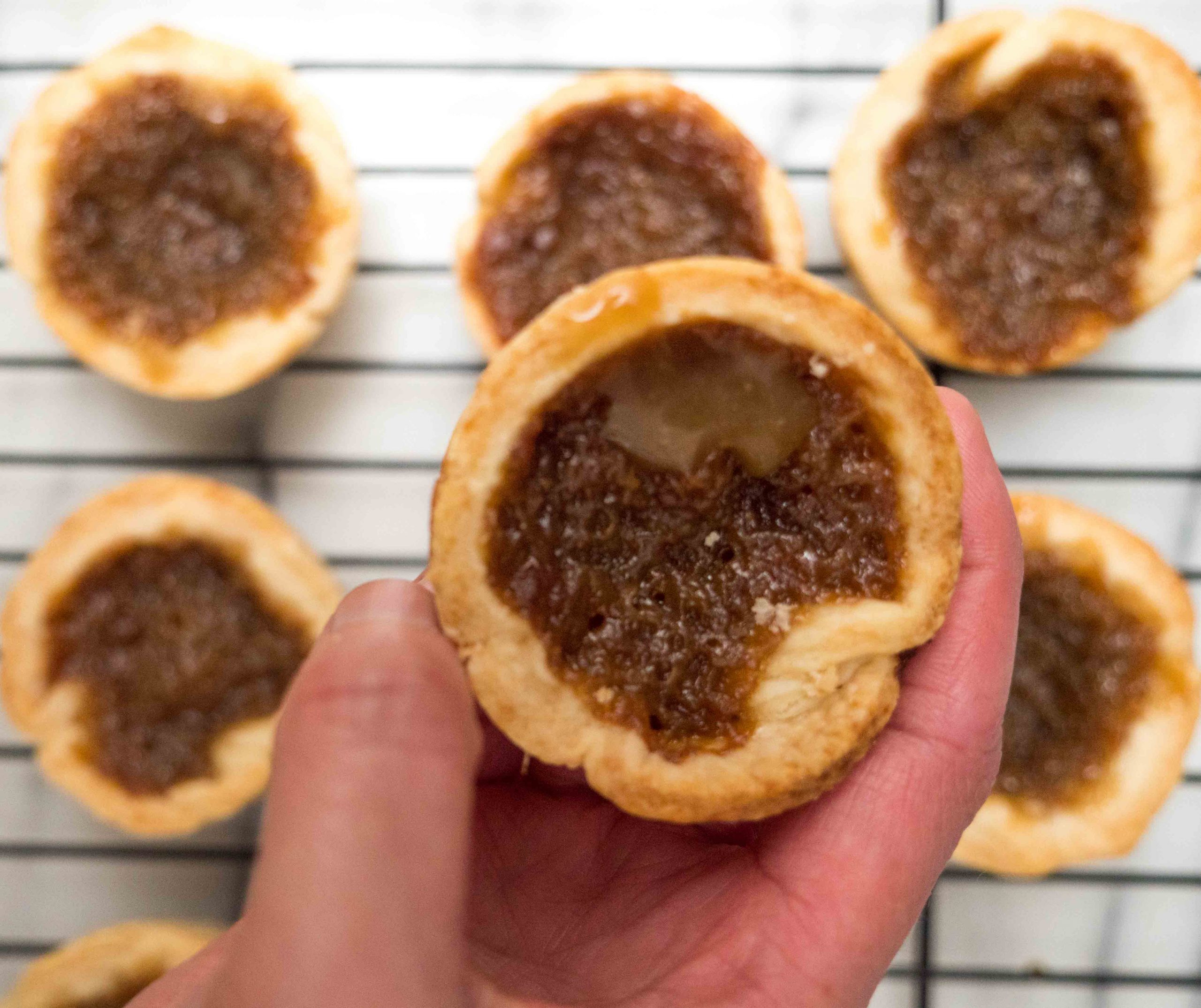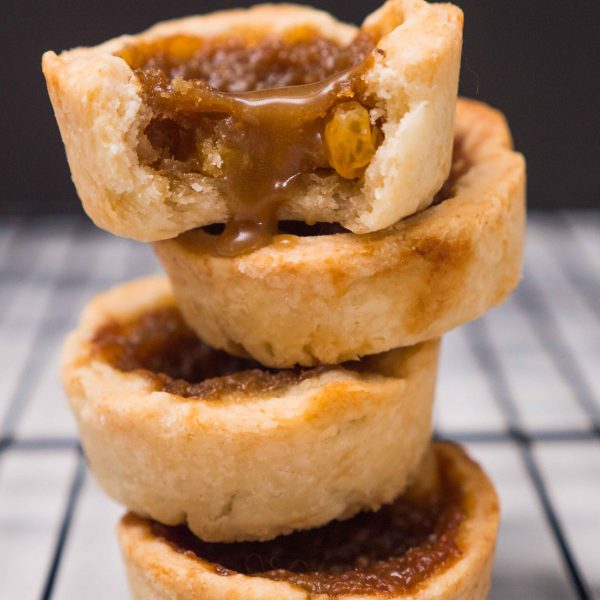 Print Recipe
Golden Raisins Butter Tarts
A Canadian Classic with Delicious California Golden Raisins!
Ingredients
For the Pastry
2 1/2

cup

Pastry Flour, sifted

1

tsp

salt

1/2

tsp

brown sugar

1/2

cup

cold shortening, cubed

1/2

cup

cold unsalted butter, cubed

6

TBSP

Cold water
For the Filling
1/2

cup

melted butter

1/4

cup

corn syrup

1/2

cup

maple syrup

2

tsp

vanilla extract

2

egg

1

cup

Golden California Raisins
Instructions
For the Pastry
In a large bowl, combine flour, salt, brown sugar, shortening and butter and combine until it is crumbly. You can use either mix by hand or combine this in a mixer.

Add water to dough mixture and combine until a dough ball forms

Cut dough into two pieces and roll into logs

Wrap logs and refrierage for at least 1 hour
For Filling
In a large microwavable measuring cup with spout, melt butter in microwave

Add corn syrup, maple syrup, vanilla and egg and whisk until combine
Putting the Tarts Together
Keeping one dough log in the fridge, take the other one out and cut log into 12 pieces

Roll each of the 12 pieces into circles (you can use a cookie cutter to cut into perfect circles if you like). Roll out to about 1 cm thick so that the filling doesn't leak through while baking

Put each piece of round dough into muffin tins and press down

Divide 1/2 cup California Golden Raisins between the tarts and divide into the bottom of the pastry before pouring filling in

Pour filling onto of California Golden Raisins, about 3/4 way up

Repeat with second piece of dough

Bake for 15 minutes, or until the pastry is a light golden colour. Let cool before removing from muffin tin. (*Be careful, the caramelized sugar in the filling is very hot. Please let it cool down before touching)
Storing Your Butter Tarts
In the rare occasion you have left overs, you can put them in an air tight container and leave them in your fridge for up to a week. You can also freeze them and warm them up in your oven when you have a craving! If you like you can also make the pastry and filling ahead of time and leave them in the fridge or freezer and put it together when you are ready!
Have you had butter tarts before? Do you prefer them with or without raisins? Comment below and let me know!