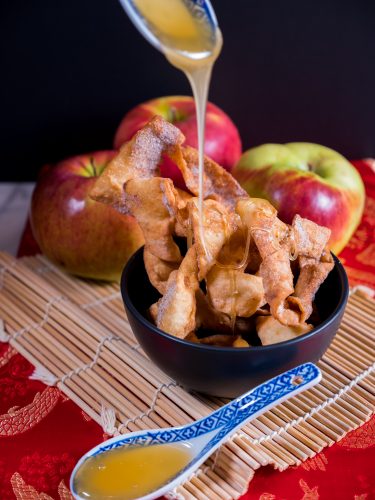 Say it with me, now- Dan San.
"Dan." (like "dahn").
"San." (like "sawhn").
Well, look at you! You just learned a new Cantonese word! Many people haven't heard of this delicious Chinese treat. But it's as fun to eat as it is to say. Dan San means "deep fried egg goodness" and is normally served during Chinese New Year as a dessert or treat. And a lot of Chinese dishes signify something important, so in the case of Dan San signifies having more prosperity each year. As you fry the Dan San it expands and puffs up, which symbolizes your wealth expanding. I was surprised that not too many people have tried or even heard of this Chinese New Year staple, so obviously I have to give it a good come back!
I decided to make them with one of my favourite Ontario grown fruits- apples! I really love how versatile and easy Ontario Apples are to cook with. And when looking for Ontario Apples, make sure you look for the Foodland logo to make sure you are buying produce from Ontario. The traditional Dan San recipe is a fried fresh dough topped with syrup, but I've incorporated some Western flavours with this Eastern dessert and am happy to share my Apple Dan San recipe with all of you!
I chose the Cortland apple for this recipe because it has more of a delicate sweetness, and the flavours are not too overpowering. It also has a nice crispness to it that really elevates the traditional Dan San and adds so much character to an otherwise traditional dessert. Insider secret: the Cortland apples resists browning (not 100%, it still browns a little) which is perfect since these Dan San take a little extra time to put together and it's nice not to have fully browned apple slices at the end of it all.
I hope you enjoy making these Apple Dan San not only for Chinese New Year, but for any time of the year! Make it your next dessert for your next holiday bash. Because who doesn't love fried apple goodness?
Ingredients:
2 tablespoons canola oil
1 cup cake flour (and some extra to flour the counter when rolling out the dough)
1 large egg
1 tablespoon water
1/4 cup white sugar
1 Cortland apple (washed and thinly sliced into small pieces)
Canola oil for frying
1/4 cup white sugar (for coating)
1 tablespoon cinnamon (for coating)
Honey (or brown rice syrup for coating)
Directions:
Preheat 1 inch of oil in a pot on medium-low heat
In a small bowl, combine 1/4 cup white sugar and 1 tablespoon cinnamon and mix. You'll use this to coat your Dan San after they are done frying
In a separate large bowl, combine the oil, cake flour, egg, water and sugar (the first 5 ingredients) until a soft dough is formed
Flour the counter and roll out the dough to 1mm thick
Trim the edge of the dough to form a large rectangle
Cut dough into smaller rectangles (approximately 1inch x 4 inches)
Add a slice of apple on each end of the rectangle and fold dough over
Cut a slit in the middle of the rectangle and flip both ends inside out (to form a bow tie shape)
Fry for 1 minute or until golden brown
Dust with cinnamon sugar and drizzle with honey
If you can resist not eating all of the Dan San in one seating, they taste great with a scoop of vanilla ice cream!
*Disclaimer: This is a sponsored post. As always the recipe and opinions are my own.