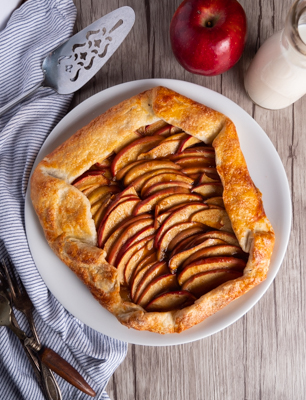 This is a sponsored post with Cosmic Crisp Washington state Apples. As always recipe and opinions are my own.
Back in 2019, I heard about a brand new apple that was in the market, The Cosmic Crisp Washington State Apples. I was intrigued since it is not often we see too many new varieties of fruits and veggies on the market. I searched for it everywhere in Canada but found out that in 2019 it was only available in the United States. We did make a trip to the USA in 2019 and I made it a mission to stop by a grocery store to try one out and let me tell you, it did not disappoint.
What is a Cosmic Crisp Apple?
A Cosmic Crisp Apple has been in development for over 20 years! It is a cross between a Honey Crisp and an Enterprise apple. It has all the characteristics of the perfect apple. Crispier and sweeter than other types of apples, they are also juicy, large and it is also slow to brown. (Which is perfect for when you are using it in a recipe!) The Cosmic Crisp Apples were classically bred at Washington State University and are non-GMO.
Where Can I Find Cosmic Crisp Apples?
If you are in Canada like me, I am happy to announce you are able to find these delicious apples in all major grocery retailers. If you are in the USA, you have probably seen them in most grocery stores already.
How to Use Cosmic Crisp Apples?
Since they are pretty much the perfect combination of all the qualities of other apples we love already, the Cosmic Crisp Apples are perfect for everyday snacking, cooking and holds really well while baking too! Which is why I was inspired to create an Apple Galette with these amazing Cosmic Crips Apples.
What is an Apple Galette?
Think of an apple galette as a rustic cousin to a traditional apple pie. Sometimes people find it intimating to make pie dough and then making sure everything is perfect and pretty. The Apple Galette should be what you make first to practice making dough and the more rustic it looks, the better! There is no need to create the perfect lattice or design on it! Once you are comfortable making the dough, you can always graduate to make an official apple pie!
Galette is a French word that actually means "a flat round cake of pastry often topped with fruit". Pretty self explanatory!
How to Store Apple Galette
If you want to make this dessert ahead of time, you can actually make it up to the point of baking and freeze it. It is best to vacuum seal it before freezing to it keeps it shape. When you are ready to bake, just pop it out of the freezer and right into a hot oven. You will likely have to bake it for a little longer depending on how hot your oven gets since it is being cooked from frozen.
If you baked it have a few pieces left over, you can store it in your fridge for a few days in an air tight container. But don't worry too much about leftovers, this recipe is amazing and I am sure all the slices will be gone before you know it!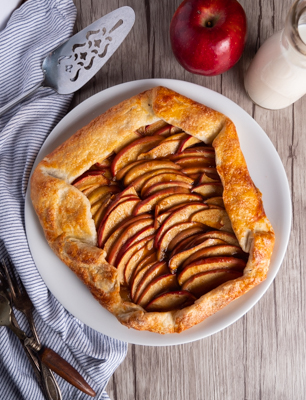 Rustic Apple Galette Recipe
Ingredients
For the Dough
1/2

cup

unsalted butter, cubed, frozen

1 1/2

cup

all purpose flour, sifted

1

tsp

salt

1

TBSP

white sugar

1

tsp

Apple Cide Vinegar or White vinegar

8

TBSP

Cold water

May need more or less depending on the humidity of your kitchen
For the Filling
2

Cosmic Crisp Washington State Apples

Cored and sliced

2

TBSP

freshly squeezed lemon juice

1

tsp

ground cinnamon

3

TBSP

brown sugar
For the Topping
1

large egg, beaten

1

TBSP

coarse sugar
Instructions
For the Dough
Put cubed butter into freezer for at least 15min.

Combine flour, salt, sugar into a large bowl

Add frozen butter into flour mixture. Use your hands or a stand mixer to combine butter into flour mixture. Note that you won't be able to fully incorporate it since it is frozen, but that is the perfect way to get flakey dough.

Add apple cider vinegar (or regular vinegar), mix to combine.

Add cold water one tablespoon at a time until a dough ball forms together. Depending on the temperature and humidity of your kitchen, you may need more or less water to get the dough ball to form.

Wrap dough ball in plastic wrap and put into refrigerator for at least one hour.
For the Filling
Slice Cosmic Crisp Apples into thin slices and put into large bowl

Add cinnamon, sugar and lemon juice into the bowl with apples and toss to coat all the slices. Set aside
Putting It All Together
On a lightly floured surface, roll the dough out into a rectangular shape, about 1/4 inch thick

Pour apple mixture into the middle of the rolled out dough

Fold edges over, over lapping the previous fold with each new fold. It doesn't have to look pretty so don't worry if it is not even.

Brush dough with egg wash and sprinkle with some coarse sugar.

Bake for about 35-40 minutes, until the crust is golden brown
Nutrition
Serving:
1
slice
Calories:
332
kcal
Carbohydrates:
43
g
Protein:
5
g
Fat:
16
g
Saturated Fat:
10
g
Polyunsaturated Fat:
1
g
Monounsaturated Fat:
4
g
Trans Fat:
1
g
Cholesterol:
68
mg
Sodium:
524
mg
Potassium:
128
mg
Fiber:
2
g
Sugar:
16
g
Vitamin A:
546
IU
Vitamin C:
5
mg
Calcium:
27
mg
Iron:
2
mg
I love using Cosmic Crisp Apples for this recipe since they hold up really well in the oven. You can still taste the sweetness and slight crispiness even after it is done baking! I highly recommend you give Cosmic Crisp Apples a try!
If you have tried the recipe or have tried Cosmic Crisp Apples, I would love to hear what you think. Comment below or tag me on social media @joyceofcooking! Happy Cooking!