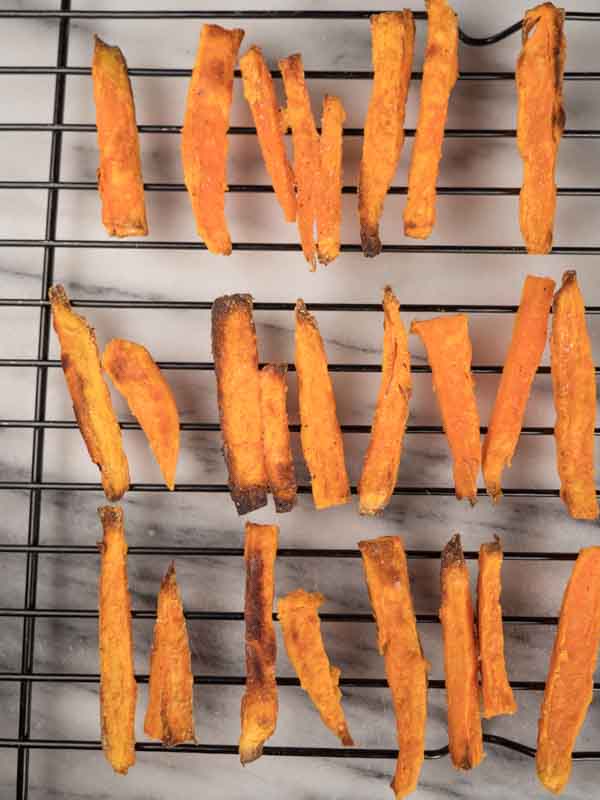 If you are like me, you LOVE sweet potato fries but you don't want to start deep frying every time you have a craving for them (which is pretty often!) . When you bake them, they usually come out soggy and tends to never crisp up. But I have the best hack for you to make crispy sweet potato fries (like the ones you get in a restaurant) in your oven that takes only about 20 minutes! That's right, keep reading for the best hack ever!
Are Sweet Potato Fries Better For You?
Before we jump into the hack, I want to answer some FAQ on sweet potatoes. Often times, people ask, are they better or healthier than your regular potatoes. Well that is a question that have a complicated answer. Sweet potatoes are lower in calories, carbs, and contains more vitamins like vitamin A and C in comparison to a white potato. However, the white potato actually has more protein and fiber than a sweet potato. So really, I think both are a good option to incorporate to your meals and they are both tasty in different recipes! Everything in moderation, right?
How to Make Sweet Potato Fries Crispy?
Are you ready for the hack? It is one ingredient that will change EVERYTHING! And that ingredient is, corn starch! If you coat your sweet potato fries with a thin layer of corn starch before baking them, you can achieve that crispiness you are looking for in your fries but without frying them! The corn starch absorbs the liquid that gets cooked out of the sweet potato when you are baking them so it doesn't steam and becoming a sad soggy limp fry!
Some Other Tips To Make Crispy Sweet Potato Fries in the Oven!
Other tips to remember are:
Cut your sweet potatoes as thinly and evenly as possible. They will cook faster this way
Don't overcrowd your pan! Sweet potatoes have moisture in them. If you overcrowd the pan, you will just make them steam instead of crisping them up!
Use the convection oven feature if you have it. The convection oven setting helps to evenly distribute the heat around your oven while you are cooking. Your sweet potato fries will cook faster and more evenly!
How to Store & Reheat Sweet Potato Fries
If you have a lot of self control and you don't eat every last piece of sweet potato fries, you can store them and eat it later! Put them in an airtight container and store in the fridge for up to 3 days. Simply put them on a baking sheet and turn on the oven to 425F (Convection again if possible) and bake for 5 minutes. You can also freeze it if you are not planning to eat the left over for awhile. I would recommend you freeze them on a baking sheet on a single layer first until frozen and then transfer them into a freezer bag. When you are ready to eat them, you can just bake them from frozen (425F convection for about 15 minutes).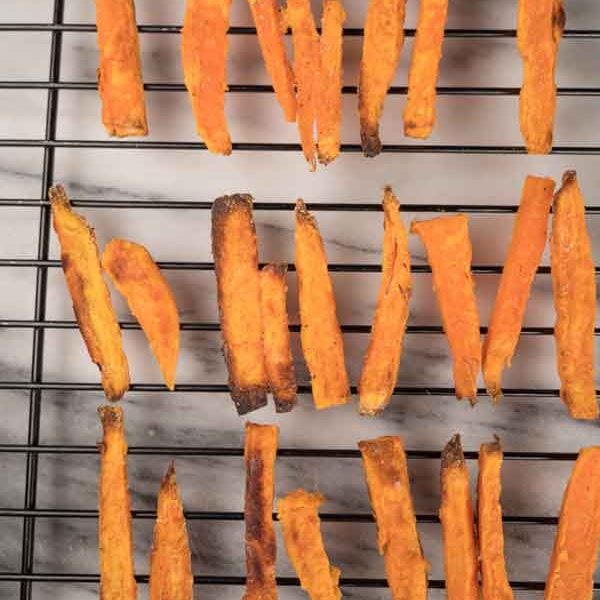 The BEST Oven Baked Sweet Potato Fries (they are crispy too!)
Ingredients
1

large

sweet potato

Ends cut off and peeled

1

tablespoon

corn starch

1

tablespoon

vegetable oil

salt

pepper

garlic powder

paprika
Instructions
Preheat over to 425 F (Convection settings if you have it)

Cut ends and peel the large sweet potato

Slice in half down the middle and and cut into thin strips (try to get them as evenly as you can so they cook in the same time)

Put sweet potato into a large bowl and add cornstarch. Toss and coat fries evenly.

Pour in bowl and coat evenly

Layout the sweet potato fries onto a large baking sheet and make sure not to over crowd them. Leaving a little space between each piece of sweet potato is necessary

Bake for 10 minutes and flip the sweet potatoes and turn the pan.

Bake for another 10 minutes. Remove from oven and sprinkle with salt, pepper, garlic powder and paprika to taste!